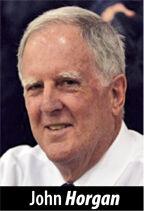 As the pandemic eases and the local economy and San Mateo County's wide range of institutions begin to open up slowly but surely, the good news just keeps on coming.
Another welcome announcement along those pleasant lines wafted through the electronic ether by email recently: The Pacifica Coastside Museum is scheduled to reopen July 1.
Which means the public can get a fresh look at a particularly relevant model train exhibit beginning next month.
It was just over 100 years ago that the Ocean Shore Railroad ended its coastal service. But, while it functioned for just 15 years (1905 to 1920), the line did have an impact, some of which survive today.
There are still plenty of traces, some of them rather faint to be sure, of the two segments of the route — one north from Santa Cruz to the Davenport/Swanton area, the other south from San Francisco to Tunitas Creek.
The tracks were never finished; the line, intended to run between San Francisco and Santa Cruz, suffered from a 28-mile gap. As you might imagine, financing (the Ocean Shore was privately funded) proved to be a severe problem.
There were also property/right-of-way issues with established rail interests in Santa Cruz that hampered the Ocean Shore's viability, especially when it came to freight.
The 1906 earthquake that devastated San Francisco was also a major negative factor; some of the damage to Ocean Shore construction projects exacerbated already tough financial challenges.
The advent of automobile travel was most assuredly unhelpful to the health of the railroad too.
In the end, the Ocean Shore project, though relatively popular with tourists eager to visit coastside beaches, was a failure. So was intense promotion by land speculators who envisioned major residential developments all along the coast.
The Pacifica Coastside Museum's Ocean Shore Railroad model train layout gives visitors a sense of what the ambitious system was like back in the day.
Beginning July 1, the museum will be open on Tuesdays, Thursdays and Saturdays from 1-4 p.m.
The museum is located in Pacifica's historic Little Brown Church, 1850 Francisco Blvd.
HIGH-SPEED RAIL IS ANYTHING BUT: Regarding failed California railroad efforts, one has to wonder about the future of the state's ambitious high-speed rail project.
Mired in staggering cost overruns, disputes over eminent domain, endless litigation, constant executive turnover and continuing questions about sources for construction funding (not to mention the delicate matter of virtually certain future annual operating deficits), the fast train is the very definition of a monumental boondoggle.
Unlike the Ocean Shore Railroad (and others of its ilk in previous centuries), the high-speed setup does not have even a hint of serious private funding as fondly hoped by boosters in the past. It's taxpayers' dollars all the way at this point.
The published HSR 2020 business plan has indicated that the cost of the San Francisco-to-Los Angeles line (which includes a 51-mile Caltrain segment that is being electrified and suffers from serious cost overruns of its own) has ballooned to $80 billion, and counting. The system is nowhere close to having that kind of money allocated for it.
Like the Ocean Shore venture, high-speed rail has some formidable natural obstacles impeding its progress, not the least of which are the formidable Tehachapi Mountains. South of Bakersfield, that mountain range soars to just over 4,000 feet.
Getting high-speed trains over and through that considerable barrier down to Palmdale and Lancaster (essentially a rail alternative that mimics the Highway 5 Grapevine but is far more complex) will be an expensive and daunting task. And that's an understatement.
The official 2020 estimate for this 82-mile preferred mountain route is $18 billion. It includes about 9 miles of tunnels, nearly 16 miles of elevated structures (viaducts, berms, etc.) and 75 overpasses/underpasses. But who knows how much such a project would actually cost, if it were ever attempted in the first place. This is something similar to the far more modest Ocean Shore endeavor but on a truly gargantuan engineering scale.
And, if things keep going as they have for years, the monetary high-speed rail losses will be similarly massive.