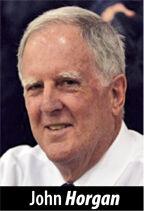 Tim Draper, the savior of the old Benjamin Franklin Hotel building in downtown San Mateo, is no dummy. He understands that timing is everything.
He picked a good time to vent. Draper, a wealthy venture capitalist/high-tech promoter (a Silicon Valley professional class that's not always held in high esteem by critics, especially those opposed to the amassing of great individual wealth), has spent millions on sprucing up the former hotel and transforming it into a facility geared for young entrepreneurs.
Draper, on occasion, can be a bit full of himself. He sometimes sets himself up for criticism. He terms his clients as "heroes," a stretch by almost any definition you care to employ.
He has taken on projects that, at least on the surface, appear to be Quixotic and saddled with more than a hint of hubris. One example: His proposals to split California into a number of separate states, which have fallen utterly flat.
That said, Draper's efforts in San Mateo can't be shrugged off as examples of sheer vanity. His purchase of the former hotel (originally built in 1926) and the subsequent extensive renovation work on it have been a godsend to a commercial district that needs all of the help it can get.
No matter how you care to slice it, he has preserved and improved the imposing structure which, during its grand glory days, was a linchpin of the downtown shopping area.
Draper wants to install an outside elevator (the east side of the structure appears to be suited for it) to further improve access to the property's upper floors. City officials have been balking. A key reason: They are worried about altering the historic look of the building.
It might be wise to check the bigger picture. Downtown San Mateo has too many vacant storefronts. The ongoing pandemic hasn't helped in that regard.
The last time the nine-floor hotel sat empty, the property (which has no on-site parking whatsoever) became an eyesore, a very large and grubby blight. It was a distinct detriment in a retail environment faced with no end of competition and challenges, most notably online shopping, modernized local malls and low-cost big box stores.
Draper's calculated outburst (and a threat or two) may or may not have been helpful as he continues to seek approval for his alterations. But the thought of him abandoning the structure and shifting his operations elsewhere would not be helpful for San Mateo. Not at all.
Surely, an accommodation can be reached in this matter. It would be in everyone's best interest, especially the city's.
BRADY'S LEGEND KEEPS GROWING: Still in San Mateo for a moment as we discuss its enduring community assets, what more can be said about Tom Brady?
It has gotten to the point where another winning performance in the sport's biggest and most viewed game is now the norm, almost routine. He has been the Super Bowl's most valuable player five times (in three different decades), far beyond anyone else in the sport's history.
Brady has become an iconic figure since he came into the National Football League with New England 21 years ago. At the age of 43, the San Mateo native is virtually a father figure to a generation of younger football players. He has been a star for so long, he holds 93 career, regular season, playoffs and Super Bowl records.
Nothing seems to slow him down. This time, with a new team, new coaches and new teammates, the quarterback/maestro produced another nearly flawless gem during a pandemic.   
For his foe this month, the defending champion Chiefs, it must have seemed like Groundhog Day, another case of the Serra High alum methodically, with cool cerebral dispatch, shoving an opponent over the edge.
Here on the Peninsula, where high-tech/biotech change and innovation occur at warp speed with stunning regularity, distractions are everywhere and attention spans are short, Brady's feats have become numbingly expected. We, yawn, take them — and him — for granted.