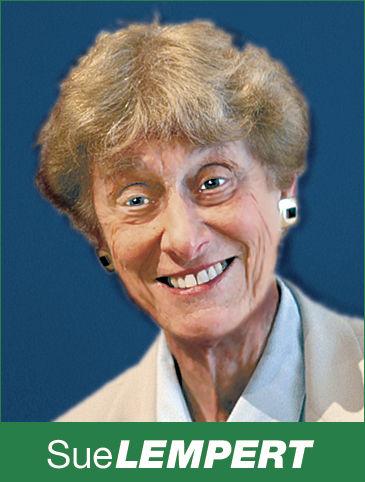 I usually don't believe in litmus tests but this time I have one which will influence not only what I eat, drive, buy, but how I vote. We lost our spring and summer to COVID-19. And we lost, most of our usually best month of the year, September, to unrelenting unprecedented fires and bad air. If that's not enough to influence your choices, I don't know what is. So I am saying goodbye to an old friend whom I have supported for the past 30 years to vote for a more friendly environment alternative.
I am joining every single member of the San Mateo City Council in opposing Measure Y. As a 60-year resident of the city, I have publicly supported H in the past and, as a councilmember, I voted to put Measure P on the ballot. But 30 years later, the city has changed, our needs are changed, and we need to get out of our cars and take public transportation or walk to do shopping if we can. We can't if we live up in the hills, anywhere west of the Alameda de las Pulgas or east of Highway 101 in San Mateo. That's why any future building needs to occur along the transportation corridor, ideally around the three Caltrain stations. Measure Y doesn't deal with the climate change challenge. Measure R does. It encourages development around the city's three train stations by allowing for higher height and density limits in these three area, the amounts to be determined by the general plan. R keeps most of Measure Y intact.
Neither initiative is perfect but, between the two, Measure R is preferable.
In multiple surveys informing the city's updated general plan, temporarily on hold due to the pandemic, residents said they wanted to keep the existing residential character of their neighborhoods and they also saw the need for more affordable housing. We know many of our children and grandchildren can't afford to live here. That there are for hire signs all over downtown because housing is too expensive for most employees. That teachers are sleeping in cars or on a friend's couch because they can no longer afford rent increases.
I often hear why are we building so much market rate housing when the need is for affordable housing.
The answer is money. One needs subsidies galore to build all affordable housing. The city now requires 15% of new market rate housing to include less expensive units. In an apartment complex which allowed greater heights and density, the developer could provide more affordable units and still make a profit. Measure Y limits heights to 55 feet in most areas of the city and density of 50 units per acre.
In 2017, the state Legislature adopted Assembly Bill 1505 to clarify requirements for providing inclusionary housing including alternative means of compliance besides on site: in-lieu fees, land dedication, off-site construction or acquisition and rehabilitation of existing units. Measure Y does not allow in-lieu fees but allows for off-site building or other alternatives. Measure R follows the language of the legislation more closely and would allow for in-lieu fees.
Because it does not address environmental and housing concerns, Y is opposed by a group of nonprofits including Save the Bay, Greenbelt Alliance, the Housing Leadership Council of San Mateo County. This group is running its own No on Y campaign funded by the Chan Zuckerberg Initiative.
For many of us, it's a difficult decision or confusing alternatives to consider. Best to check the city's website (or your voter's handbook) where you can read the full text of each measure. R also specifies the areas around the train stations earmarked for possible increases as determined by the General Plan. You might also want to consider why the council, with differing opinions on growth/development, was united in opposing Y.
For me, once I decided to vote no on Y it only made sense to vote yes on R. Here's why. The initiative which wins the most votes passes. Each initiative needs more yes votes than no votes to pass. If you vote no on both, then it's similar to those who disliked Trump but didn't like Hillary in 2016 and didn't vote. If you just vote no on Y but don't vote yes on R there's a good chance Y will pass. The group is running an effective grassroots campaign which is hard to beat. R passed my litmus test. Y didn't.
Sue Lempert is the former mayor of San Mateo. Her column appears every Monday. She can be reached at sue@smdailyjournal.com.