Sections of the Bay Area trying to address sea level rise with sea walls or levees, like in San Mateo County could inadvertently make flooding worse for neighbors, according to a new study from the Stanford Natural Capital Project.
"Sea level rise is a global reality. And in the Bay Area, sea levels are expected to rise by almost 7 feet in the next 80 years, depending on which projections you use," said Anne Guerry, chief strategy officer and lead scientist at the Stanford Natural Capital Project and senior author. "And the typical defense is to build seawalls and levees, to hold back the water, but you can't keep building taller and taller walls."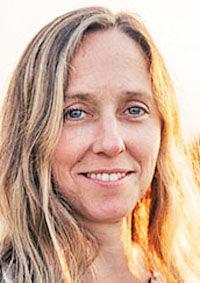 The researchers mapped what happens when one community builds the seawall along the Bayshore, and found that the water ends up flowing into other communities, making their flooding much worse, as well as causing economic damage to structures.
"The higher sea level rise scenarios that we look at protecting the San Mateo region, causes additional flooding in Foster City," she said. "Walls as far away as in Napa, Sonoma and then throughout the South Bay from the San Leandro area, all the way around through the South Bay, up to the San Bruno area, walls protecting any of those regions would worsen flooding in San Mateo."
The study also focused on different ways to rethink adaptation to sea level rise like strategic flooding, guiding the flood waters to natural areas that can act as overflow zones. This includes marshes and ponds as well as semi-natural areas like parks and golf courses where intermittent flooding would cause less damage, she said.
Then there are also hybrid solutions including engineered structures that make use of elements of nature such as a levee that includes marsh.
"A seawall has one purpose, but nature-based solutions can also provide climate mitigation through carbon sequestration. They can provide habitat for wildlife, for birds that people like to watch, nursery habitat for fish and things that people care about. And not to mention they can provide recreational opportunities," she said.
Bay Area and state officials have also been trying to address sea level rise through similar means. U.S. Sen. Alex Padilla introduced legislation for living shoreline infrastructure projects, using natural materials and systems, including dunes, wetlands and oyster reefs to support natural flood resilience.
"Living shoreline infrastructure is already helping states like California utilize wetlands and other nature-based features to buffer communities from sea level rise and extreme weather," Padilla said in a statement.
And the San Francisco Bay Restoration Act, authored by U.S. Rep. Jackie Speier, D-San Mateo, if passed, would focus on restoring wetlands and revegetating marshes. The act would provide $25 million in federal funding each year and establish a San Francisco Bay Program Office within the Environmental Protection Agency.
The San Mateo County Flood and Sea Level Rise Resiliency District, also known as OneShoreline, was created last year as an independent government agency to build solutions to the climate change impacts of sea level rise, flooding and coastal erosion. It currently has several projects, including levees, in conceptual design for broad breaches of the shoreline.
"In terms of the projects that are in the early stages of just getting organized, to start planning, we'd certainly take into account any potential impacts of these projects, whether those impact the species or impacts to direct construction traffic," said Len Materman, CEO of OneShoreline.
OneShoreline is interested in the study, Materman said, and wants to follow up with the Stanford researchers to understand better.
"They've identified an issue that we need to be aware of. And we are. And it's something that, as our project planning goes forward, we want to take into account not just how much we're protecting entities that we're focused on, on that particular project, but how that project fits into the context of the overall shoreline," he said.
He said the important lesson when building shoreline protection is making sure that it aligns and connects with joining projects and in the context of the broader region.
"Work like this paper that we've just produced really argues for a regional discussion about sea level rise adaptation, because every community throughout the Bay is connected by the shared Bay water. And so it makes sense that our climate adaptation plan would also be interconnected," Guerry said.
She also said conversations that would need to take place if strategic flooding were to occur include looking at where it doesn't overburden particular communities and finding ways to compensate communities that would be affected.