Burlingame gave opposing reviews to separate housing proposals, with strong support for a live-work development but harsh criticism for an apartment building next door to City Hall.
The Burlingame Planning Commission unanimously approved Monday, Sept. 28, plans to build 25 units in a live-work development at 601 California Drive. During the same meeting, officials panned designs for an apartment building offering 15 units at 1418 Bellevue Ave.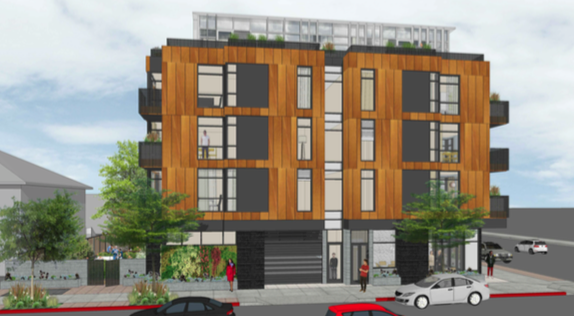 For the development on California Drive, officials praised the five-story building intended to grant people a place to live and work under the same roof — a departure from the previous discussion, in which officials were unimpressed.
"I think this is really quite a handsome building and I appreciate the applicant design team responding so well to our comments from the last meeting," said Commissioner Will Loftis.
Late last year, commissioners questioned whether units granted residents sufficient space to work, yielding greater uncertainties over whether the development achieved its intent to be more than an apartment building.
Live/work developments are designed to offer tenants a place to both run a business and make their home in the same unit. Burlingame officials have promoted the development of such projects since updating the general plan to encourage creative land use.
But when examining revised plans, officials indicated they were much more comfortable.
"I think the overall project will be a successful one," said Commissioner John Schmid.
Plans call for spreading 25 units across five stories on the property at the intersection of California Drive and Floribunda Avenue. Plans include 25 parking spaces provided through a mechanical lift system, plus a gym and conference room.
Examining the new use for the site, Commissioner Richard Terrones said he thinks it is an ideal location for a creative development.
"It is the right place for this type of increased density," he said.
Officials also appreciated the proposed downtown location for a 15-unit apartment building at 1418 Bellevue Ave. — but that is about all they liked.
With deep reservations regarding its design, compatibility with the neighborhood and other concerns, officials criticized the proposal to be built on a narrow lot between an existing apartment building and City Hall.
"It feels very much like an office building. It doesn't feel like a residential building in a residential neighborhood. And I find that disturbing, frankly," said Loftis. "I want to like the building because I really support this kind of infill residential project. But this doesn't feel like it fits to me. It doesn't feel compatible with the neighborhood. It feels aggressively incompatible."
Commissioner Sandy Comaroto shared a similar perspective.
"It feel like it is just overbearing," she said. "I would like to see something softer."
Generally, officials said they felt the project attempted to pack too many units into a relatively small piece of property.
"I think there needs to be more sensitivity and compatibility," said Terrones.
When commissioners weren't criticizing the plans, some of their family members took a turn.
Donna Gaul, wife of Commissioner Michael Gaul, wrote a letter raising concerns too.
"This project needs to be scaled back," said Donna Gaul, who owns property nearby. Michael Gaul did not comment on the proposal, and Assistant City Attorney Scott Spansail reminded officials that they were expected to offer an unbiased review, regardless of opinions held by those with personal relationships to commissioners.
No decision was made at the meeting regarding the proposal, which is slated to return for further review. Before coming back, officials encouraged planners to refine the designs.
"I want to support the project and I appreciate the aggressive nature of trying to fit a number of units into this property, but I think you will need to explore this further," said Commission Chair Audrey Tse.
(650) 344-5200 ext. 105
Note to readers: this article has been amended to note that the proposal at California Drive is adjacent to the former home of Marie Hatch, which is at 619-625 California Drive.