A proposed project adding new bike lanes and a bike boulevard in the San Mateo North Central neighborhood that will remove 214 parking spaces has residents concerned, but with city reassurances it will work to alleviate parking loss.
"One of our City Council's top priorities is to implement bicycle and pedestrian projects that address safety and align with adopted city plans," Public Works Director Azalea Mitch said by email. "In some cases, project implementation requires challenging tradeoffs like the loss of parking. We recognize that removing 214 parking spaces will impact the community. We are exploring options to address this as we work on improving road safety for all users."
According to a city report on the North Central Bike Lanes Project, bicycle lanes will be added on East Poplar Avenue from El Camino Real to North Delaware Street, North Delaware Street from East Poplar Avenue to Indian Avenue, and Humboldt Street from Peninsula Avenue to Fifth Avenue. A bicycle boulevard will be added on Indian Avenue from Delaware Street to North Humboldt Street, Poplar Avenue from Delaware Street to Eldorado Street, and Eldorado Street from Poplar Avenue to Indian Avenue.
The permanent changes will start with street pavement before the bike improvements. The project is a high priority in the city's 2020 bicycle master plan, a road map for expanding safety and accessibility for the bicycle and mobility network.
San Mateo is moving toward complete streets to accommodate pedestrians, bicyclists, cars and public transit. However, the city has a limited amount of street width and can't always increase it, leading to potential tradeoffs, like removing street parking and turn lanes.
The current plan calls for around 170 spaces removed on the west side of Humboldt Street from Peninsula Avenue to Fifth Avenue and 43 spaces on the south side of Poplar Avenue from El Camino Real to Delaware Street. The east side of Delaware Street between Poplar Avenue and Indian Avenue will lose one space. The removal has worried some neighborhood residents about potential parking overcrowding issues in the immediate and surrounding neighborhood.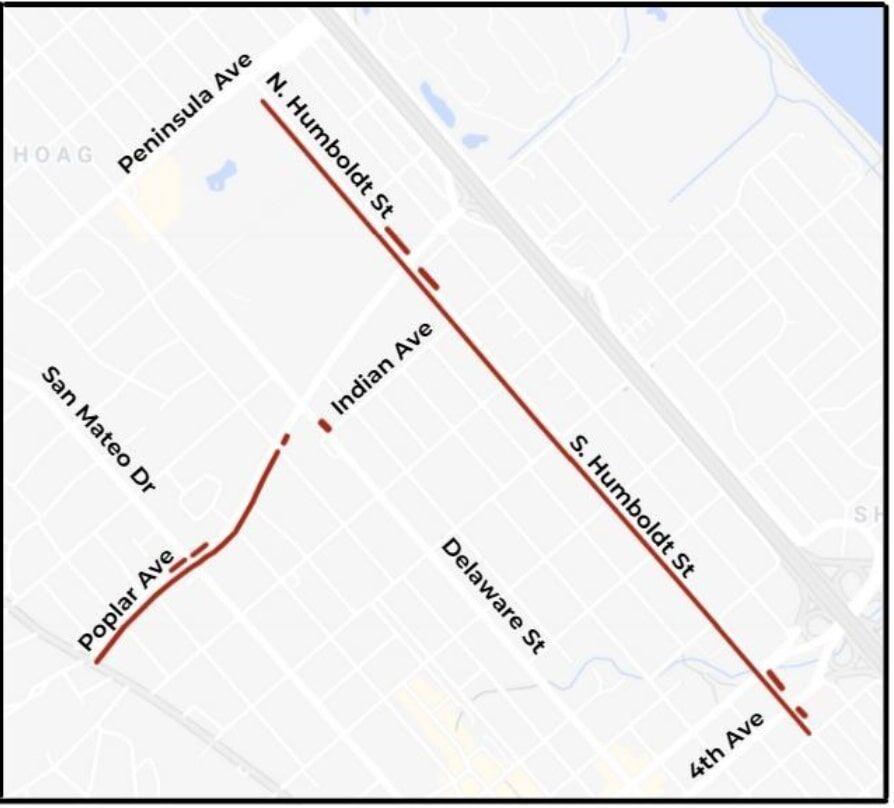 Doug Handerson, whose partner lives on North Grant Street in North Central, is worried the current quiet street for through traffic will soon have overcrowding and parking issues. He noted the city needed bike lanes and was fine having them, but he wanted better alternatives to deal with the projected increased parking in surrounding neighborhoods. He was concerned there would be more pavings of front yards for parking and increased stormwater runoff.
"It's also concerning they are going to park on our streets where the city is not enforcing clearly illegal long-term storage of vehicles," Handerson said.
The city said data found enough parking capacity in the immediate vicinity and streets to accommodate parking removal. San Mateo collected and analyzed data about the number of parking spots on nearby side streets and homes and driveways.
Councilmember Amourence Lee, who lives in North Central, said based on an update from City Manager Drew Corbett, potential programs to help parking loss like arrangements for night parking on private lots or a residential parking permit program are being evaluated. The city will also conduct a more expansive parking study to reaffirm previous results. The council will discuss and potentially approve the project Oct. 4. Corbett said by email there are often tradeoffs for these types of projects, but it was important for the city to adjust based on community feedback.
"We have been hearing concerns from residents about parking, and we'll be presenting more information at the upcoming council meeting on how we can address those concerns," City Manager Drew Corbett said.
City staff is recommending awarding the contract to McGuire and Hester, an engineering and design company, to work on pavement and concrete improvements. While the construction work is going on, the city will assess additional parking study findings. Potential mitigation options include evaluating parking programs and conducting more community outreach, with findings brought to the council before continuing with the bicycle improvement portion of the project. Bicycle improvements will start in the spring or summer of 2022. The city will use Community Development Block Grant funds from the U.S. Department of Housing and Urban Development to complete the project. The funds have a deadline for use, leading to urgency in starting work on the project.