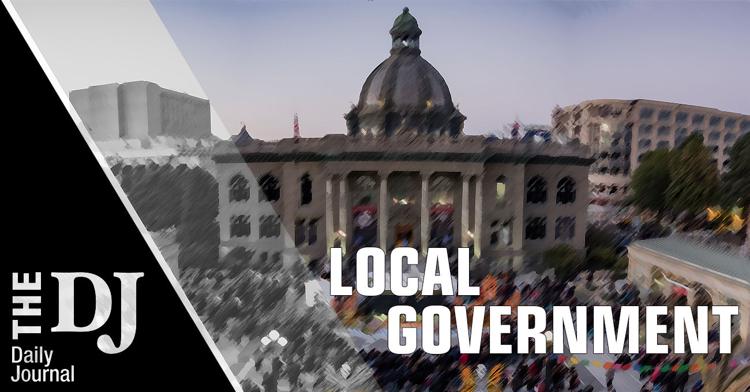 The Redwood City Council will consider placing a half-cent sales tax and cannabis business tax on the November ballot at a meeting Monday amidst a packed agenda that also includes proposed amendments to the city's charter, a citywide transportation plan plus the second reading for two renter protection ordinances.
The sales tax hike is one of several strategies officials are considering in response to a forecasted budget deficit. While the city's ongoing development boom has boosted property tax revenue and led to an increase in sales tax gains in downtown specifically, projected revenue growth will still not be able to cover increasing operating costs, according to a staff report.
Without expenditure reductions or raising new revenue, deficits are projected beginning fiscal year 2018-19 and rising each year to more than $12 million in five years, according to the report.
Officials have attributed the budget challenges primarily to flat sales tax revenue citywide, despite its growth downtown, and dramatic increases in annual pension costs, which are expected to double by 2030.
The half-cent sales tax is expected to bring an additional $8 million annually, and recent surveys suggest sufficient support for the measure.
In addition to boosting revenue, officials approved a number of cuts to balance the city's budget for fiscal year 2018-19.
According to the report, San Mateo County and five local cities have passed sales tax measures in the past three years. It will cost $30,000 to place the measure on the ballot and the recently passed budget includes funding to do so, according to the report.
The council will also decide at the meeting whether to place an excise tax on cannabis businesses on the November ballot. Earlier this year, the council agreed to allow cannabis delivery centers without walk-in retail and nurseries that grow and sell starter plants to set up shop in the city's industrial zones.
If the proposed ordinance is OK'd by the council Monday and is voted on in November, then the council would be able to set a tax rate up to 10 percent of gross receipts on each type of cannabis business.
Staff is proposing an initial rate of 2.5 percent of gross receipts on nurseries and 4 percent of gross receipts on delivery businesses operating in Redwood City, even if they're not headquartered in city limits.
The measure also proposes rates for other cannabis businesses currently not allowed in Redwood City. If approved in the future, walk-in retail would be taxed at 4 percent of gross receipts and cannabis testing would be taxed at 1 percent, for example.
In an effort to create more opportunities for the now legal cannabis businesses, the council will decide Monday whether to also allow them in the commercial office zoning district, which encompasses 43 acres mostly clustered around Veterans Boulevard with one property along Woodside and Bay roads.
Earlier in the meeting, the council will consider a plan called RWCmoves that outlines goals and strategies for improving transportation and safety in Redwood City and also includes an analysis of existing conditions. Eliminating all traffic fatalities and severe injuries by 2030 and having transit, biking and walking account for 50 percent of all trips by 2040 are just two of the plan's goals.
If the council gives the go-ahead on Monday, then voters will also be considering various changes to the city's charter in November. A charter is a legal document similar to a constitution that outlines the structure and procedures of local government. The proposed amendments include establishing term limits for all boards and commissions, consolidating the roles of director of finance and city treasurer and removing the antiquated roles of assessor and collector as well as light edits to modernize some of the outdated language in the document.
Monday's meeting also includes the second reading of two renter protection ordinances: one requires landlords to offer a minimum one-year lease, though tenants have the ability to negotiate shorter terms if they so choose; and the other requires landlords to pay eligible tenants facing eviction three, and in some cases four months worth of rent. A study session on creating a historic district designation for the Mt. Carmel neighborhood will also take place, as reported in the Daily Journal July 20.
The meeting is 7 p.m. Monday, July 23, at City Hall, 1017 Middlefield Road.