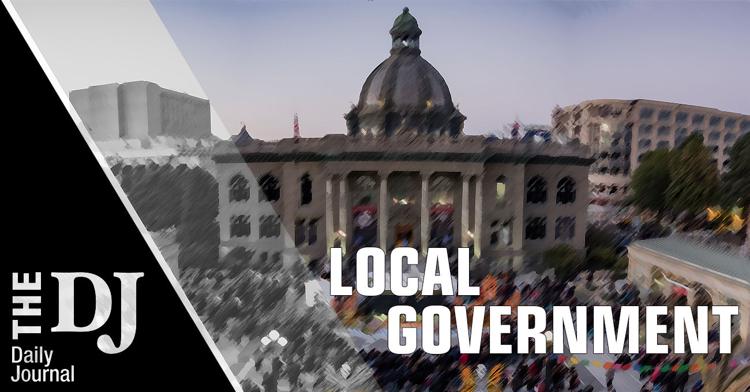 After broaching the topic in January, the Redwood City Council Monday advanced a series of policy recommendations aimed at enhancing the retail landscape downtown. 
During the meeting, councilmembers specifically applauded proposed design requirements for retail spaces as well as limiting banks looking to occupy key corners downtown. There was also interest in activating vacant storefronts by allowing pop-up businesses, among other proposals. 
Those are just three of 14 recommendations outlined in the Downtown Retail Action Plan, which the council unanimously adopted Monday. In adopting the plan, the council merely directed staff to continue exploring the various recommendations and has not yet made them law. 
According to the plan, new retail space is often delivered in what's called "raw shell" condition. One of the above proposals would require new developments with retail space in "vanilla condition," meaning there are finished interiors, cooling and heating system, restrooms and plumbing and interior lighting. The idea is "vanilla condition" will improve the chances the space will be leased and also attract the best tenants, thus resulting in a stronger retail environment, according to the plan.
Councilwoman Giselle Hale agreed.
"I think that's smart and wise and will help us move these units more quickly," she said.
Consultant Christine Firstenberg also suggested such rules would reduce overhead costs for small businesses — a concern raised by several councilmembers. Firstenberg specifically noted that grease traps and venting, for example, are costly tenant improvements for restaurants and another one of the recommendations in the plan is two require new retail space include both. 
Allowing pop-up businesses in vacant storefronts was endorsed by several councilmembers looking to bring life to "dead space."
"I'm totally open to the idea of popups because having a dead space there I think is more damaging than whatever happens with a popup," said Mayor Ian Bain. He proceeded to share an anecdote about a popup "Game of Thrones" bar he encountered on a visit to Washington, D.C., with themed drinks and interiors. He said there was a three-hour wait and during it, many got fed up and visited other local bars instead.
"It actually drew people into that district and then there was spillover into the other businesses," he said.
There was some concern that pop-ups could bring unwanted competition for existing businesses, but that concern was dismissed by consultant Leslie Parks. 
"It's not so much about competition as creating more complementary uses," she said. "In the areas I've seen pop-up retail occur it really has done some magic in terms of creating stronger vibrancy that benefits the other businesses. 
She added pop-ups typically pay a higher price per square foot than other businesses because they're temporary. 
One of the recommendations in the report is to explore an ordinance that would allow pop-ups in vacant spaces for a 60- to 90-day period and also streamline the permitting process.
Another proposal is to either ban or require a conditional use permit for banks on key corners. There are currently three banks in such locations downtown and many have long felt there are better uses for those spaces because banks close early and are only trafficked by those who are members of that particular branch. 
Councilmembers felt the ban is too restrictive, but some are open to requiring conditional use permits, which entails a public hearing to review the proposed use. 
Vice Mayor Diane Howard suggested the conditional use permit could create a situation where a bank shares its space with a retail use to create "that vibrancy we need." 
Other recommendations in the plan are to develop guidelines for consistent design of street signs, expand parking availability, establish two-hour parking on Main Street, add electric vehicle charging stations downtown and study potentially expanding the area where ground-floor retail is required to beyond what's designated in the Downtown Precise Plan.