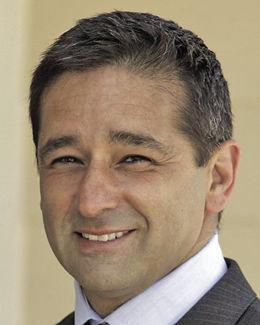 Concerns about Foster City Vice Mayor Herb Perez's conduct and attendance at public hearings are among the worries a group of Foster City residents, business owners and educators say compelled them to call for him to be recalled at Monday's City Council meeting.
By announcing an intent to collect the signatures needed to begin a recall petition for Perez's seat Monday night, the group Foster City Watchdog set in motion a process resident and group spokesman Jeff Regan said has long been considered by members of the community frustrated with Perez's leadership over the years since he was first elected to the council in 2011.
Perez dismissed the claims leveled against him, noting there is a group of residents who oppose housing in the city and have made baseless allegations against councilmembers in the past. But Regan said those who have expressed interest in the effort are not willing to put up with what they describe as a pattern of disregarding residents' wishes and being disrespectful to them at City Council meetings and other public hearings.
"This has been something that a lot of residents have wanted for a long time," he said. "We are quite sure that there is a real groundswell of people who want to take back our city."
Regan said the council's vote in December to reappoint Sam Hindi as mayor and appoint Perez as vice mayor after he served as mayor in 2015 spurred the group's efforts to recall Perez out of concerns he would become mayor in 2020. Alleging Perez has had poor and tardy attendance at public meetings, has leveraged city resources to further his business interests and has disrespected the wishes of residents, among other concerns, Regan claimed citizens have lost confidence in their leaders.
Perez said his attendance at City Council meetings is likely among the best of his colleagues, noting he had to miss one recent meeting of the joint powers authority RethinkWaste to pick up his two children from school. He believed the council in its entirety is respectful of residents and alleged there are some residents who have in the past accused councilmembers of taking money from developers and of making "inside" deals with no basis, allegations to which councilmembers have responded accordingly.
In response to the group's allegations about his business, Perez said it sponsored several events in the city for 14 years and he has vetted those sponsorships with city staff to ensure they are appropriate.
Perez acknowledged that in serving the public, some are going to agree with one's decisions while others are going to disagree, and emphasized that elections are held so the city's residents can determine who will represent them. He said if he were to allow himself to act in fear of the backlash of a few individuals, he would be doing a disservice to those who elected him.
"I have consistently represented the public for the past eight years, and as a result of that, I was elected to two terms," he said. "I believe that it's important to represent the public in total."
Regan said he is confident the Foster City Watchdog group will be successful in gathering the some 3,500 signatures the group plans to submit to the San Mateo County Elections Office and is hoping the special election can coincide with a previously-scheduled election. Jim Irizarry, assistant chief elections officer for San Mateo County, confirmed in an email a recall process begins when the proponents of such an initiative serve a notice of intention to the official they hope to recall and the official may file a reply to the notice with the Elections Office within seven days.
He said the proponents of the recall effort are required to circulate a petition in a format provided by the secretary of state and must gather the signatures of no fewer than 20% of the registered voters in the affected jurisdiction, noting 16,568 voters had registered in Foster City as of Feb. 10. He added there have been no recall elections for city councilmembers in San Mateo County in the last 20 years.
Regan noted community members from a wide array of backgrounds have been frustrated with what they see as Perez's efforts to gather support for his own agenda in city decision-making. Together with Perez's alleged violations of Robert's Rules of Order at City Council meetings, such as leaving the room when he doesn't like the topic of discussion or interrupting and denigrating those who speak during public comment, Regan said residents are no long willing to suffer through Perez's conduct.
"I've been a resident for 50 years and I've never seen such poor leadership," he said. "It seems like they're there to serve their own interests and that is not why they are elected."
Perez said he hasn't observed any pattern in the council's voting that would suggest an agenda has been set, noting if residents are frustrated with the council's decisions they should voice their concerns to the council as a whole. He looked to the council's leadership in crafting a plan to fund a levee project and update the city's parks master plan as among its successes in the eight years he's served on the council, and said the city's residents seem to be appreciative of its ability to balance budgets and build consensus on key decisions.
"That's what I have to focus on," he said. "I have to focus on the other residents. I can't focus on individuals, whatever their agenda is."