Some might say that art and commerce have a confusing relationship, but the bond has never been tighter in San Bruno, where the Peninsula Museum of Art reopened in The Shops at Tanforan.
The nomadic art exhibition space in search of a stable home since it was displaced from its previous location in Burlingame celebrated its grand opening in the San Bruno mall earlier this month, and representatives are hopeful the move lasts.
"It's great to be here," said Christina Chahal, co-executive director of the Peninsula Museum of Art with Megan Kamrath, who shares the same title. The museum is located in space 204, on the upper level near the movie theater box office. Admission is free.
Chahal said the foundation for the arrangement was laid during the peak of the pandemic last fall, when mall executives approached museum representatives with an offer to fill vacant storefronts left by departed businesses.
Because the mall industry has seen some creative art destinations draw foot traffic to stagnant shopping centers, Chahal said those operating The Shops at Tanforan hoped to replicate the success in San Bruno.
The arrangement is mutually beneficial for the museum too, Chahal said, because its former home at 1777 California Drive in Burlingame was not known for foot traffic. That is not the case at the mall, where shoppers are returning and interest is building at the new creative enclave in San Bruno.
"It's only going to get better," Chahal said, regarding the expected rise in visits as more patrons begin perusing stores at the shopping center more regularly.
Additionally, Chahal said the museum's presence in San Bruno gives the surrounding community in north San Mateo County a unique, central space to visit and enjoy the arts in an area otherwise starved for such options.
"People who live around there don't have to go to the city or Palo Alto to experience museum quality art," she said.
San Bruno Councilmember Linda Mason expressed her appreciation for the cultural arts destination joining the community.
"The opening of the Peninsula Museum of Art is a natural addition to the evolving renaissance occurring in San Bruno," she said in an email. "Aside from reenvisioning the traditional mall experience, its opening acknowledges the large artist community within San Bruno while simultaneously inviting the entire Peninsula to experience excellent art work within our own borders and only a BART stop or Caltrain stop away."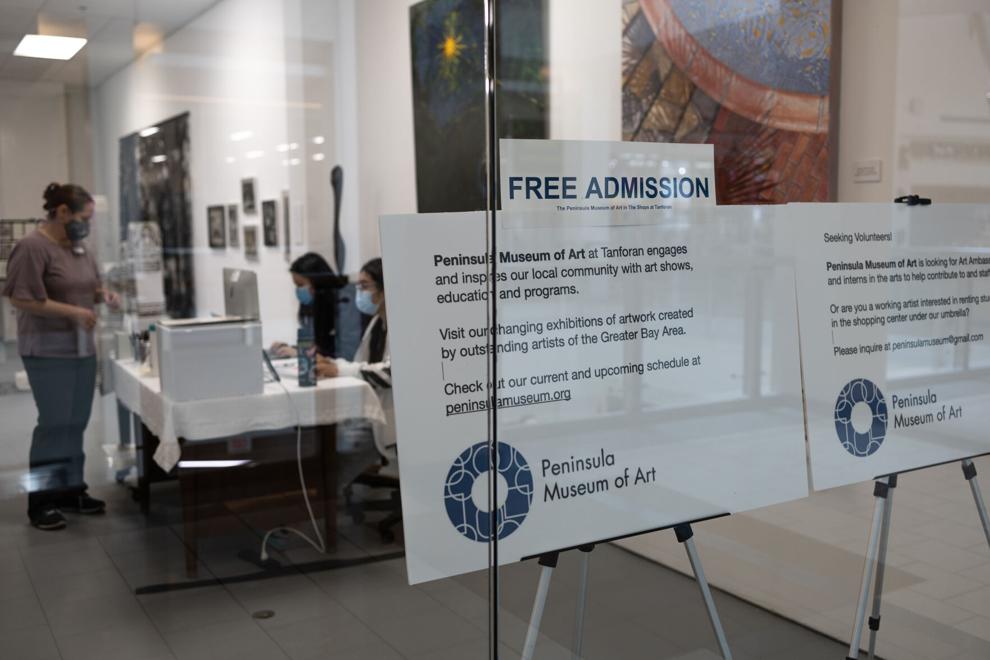 It has been a rough couple years for the museum, after it was evicted in 2019 from its former Burlingame home to make way for redevelopment into a sweeping commercial tower. After months of searching for a new location, some affiliated with the museum found a new home at in Art Bias in the Industrial Arts District of San Carlos, but the display space was temporarily shuttered.
Like many members of the arts community, the museum had been facing financial hardship following the countywide shelter-in-place order announced last year that required all nonessential businesses, including museums, to close their doors to the public.
The museum's former executive director Ruth Waters, who recently retired from her post, had said the institution's business model largely ran on public donations and classes taught in artist's studios, two revenue streams hindered by an economic downturn and the pandemic.
Looking ahead, Waters said in an email that plans are forming to establish art hub spaces at The Shops in Tanforan and discussions are underway regarding how much room will be available for artists in San Bruno. Waters founded the museum in Belmont in 2003, before moving to Burlingame in 2013.
For her part, Chahal said the organization is currently "running on fumes" financially and looking to connect with volunteers willing to staff the new space or members of the local arts scene who have suggestions for future events.
The new San Bruno location reopened in May with an exhibition planned to run through July, featuring legacy work of former San Francisco artist Jo Hanson, who Chahal credited for building relationships between artists and municipalities. Jamey Brezezininki, of Pacifica, also has his work featured in the exhibition showing large, acrylic paintings depicting overhead views of stunning scenery from locales across the state.
Chahal said the summer show starting in July and running through September will explore individuality with an exhibit curated by Uni.Verse Studio, a collaborative studio of Black creatives.
"The group show will be anchored by a lively installation of color and retro energy as we celebrate creativity and expression," according to promotional material.
Chahal expressed her enthusiasm over the coming attraction, which she expects to be a unique, immersive experience with interactive components.
"It's an amazing show, unlike anything we've done before," she said.
Beyond future exhibitions though, Chahal said the museum's focus will be largely on building a relationship in its new hometown, with hopes of continuing to offer intriguing creative endeavors.
"We really want to be open and engaged with our community and provide art and programs that people will really be interested in," she said.
Note to readers: this article has been amended to correct the spelling of Chahal's first name.