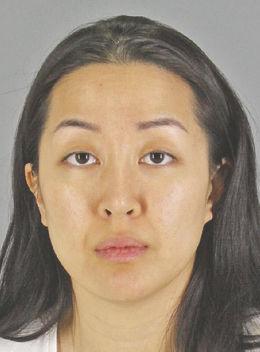 The trial for a Hillsborough woman charged with conspiring to murder the father of her two daughters was delayed for nearly a year to August of 2019 Wednesday to give her time to undergo cancer treatment and allow the defense attorney for her co-defendant and boyfriend to complete work on an unrelated murder trial slated for April, according to the San Mateo County District Attorney's Office.
Charged with conspiring to murder Keith Green, a Millbrae man and father of her children, and recently diagnosed with breast cancer, 33-year-old Tiffany Li must undergo chemotherapy, surgery and radiation before she will be ready to stand trial, said Li's attorney Geoff Carr.
Though Carr said her doctors expect Li may be available as early as April, the defense attorney for her boyfriend and alleged co-conspirator Kaveh Bayat, James Thompson, is set to begin the death penalty jury trial April 22 for Daniel Contreras, a Redwood City man facing murder and child abuse charges related to the death of toddler Evelyn Castillo. Allegedly acknowledging the Contreras trial may take up to three months, Judge Stephanie Garratt set Li and Bayat's trial Aug. 19 when both defendants, their attorneys and prosecutors are expected to be available, according to prosecutors.
Li, who famously made headlines for posting $35 million bail more than a year ago, is believed to have conspired with Bayat and Burlingame resident Olivier Adella, 43, to kill Green and dispose of his body April 28, 2016. Almost two weeks after the 27-year-old met up with Li at a Millbrae pancake house the evening he disappeared, Green's body was discovered near a Sonoma County homeless encampment May 11, 2016, according to prosecutors.
Though Li, along with Bayat, who is believed to have pulled the trigger of the gun that killed Green, are facing murder charges, Adella is facing a three-year prison sentence after striking a plea deal with prosecutors in February. Having pleaded no contest to accessory to murder for assisting in the disposal of Green's body after the murder, Adella agreed to testify at his co-conspirators' trial, previously set in February for Sept. 17, according to prosecutors.
Cudd has sought compensatory and punitive damages, among other costs, against the three defendants being held responsible for her son's death on behalf of Green's estate and his two daughters, according to the suit.
Formerly a resident of Washington, Cudd allegedly moved to San Mateo to care for her granddaughters, of whom she shares custody with Li's mother.
Though Li's bail conditions previously did not allow her to have physical contact with her children per an order from the family law court, a judge in that court granted her request for supervised child visitation in March, according to prosecutors. Carr said the visits have been happening regularly and going well, and added the grandmothers of Li's children have been sharing custody of them.