Businesses have been hard hit by the pandemic, especially dry cleaners. Now into its eighth month, these essential businesses are still struggling to stay afloat.
With people working from home, and with weddings, funerals, sports and events being canceled, there has been a drastic decline in customers going to the cleaners.
"It was a sudden drop," said Steve Chung, owner of Redwood Shores Cleaners. "The first three months of the year were good, then March happened."
Chung has been in the dry cleaning business for almost 50 years and has been at this location since 2000. Business has been steadily coming back, doing about 35% to 40% in sales. In March and April, Chung called his customers to pick up their clothes. Since then, he hasn't had many people come in.
"I might have gone down like 10% like six, eight years ago, but nothing like this, for this prolonged period," said Chung. "I thought 'ah we can survive one to two months.' Now it's the eighth month."
Fortunately, Chung has savings and is planning to retire. The only reason he would want to work another year is for his employee turning 62 next year to be able to collect Social Security. But he doesn't see it likely they can stay in business that long, he said.
They were able to receive Paycheck Protection Program funding. His one employee who has been with him for 20 years at this location works one day a week now.
Before Chung used to have some part-timers he had to let go. Now they work one whole production day on Monday and the rest of the week is 10 a.m. to 2 p.m. Chung left his number on the sign so customers could reach him if they needed service outside of these hours. He also offers pickup and delivery.
"When you've been here as long as I have, you know all the customers," said Chung. "Thank god, we have a lot of loyal and steady customers."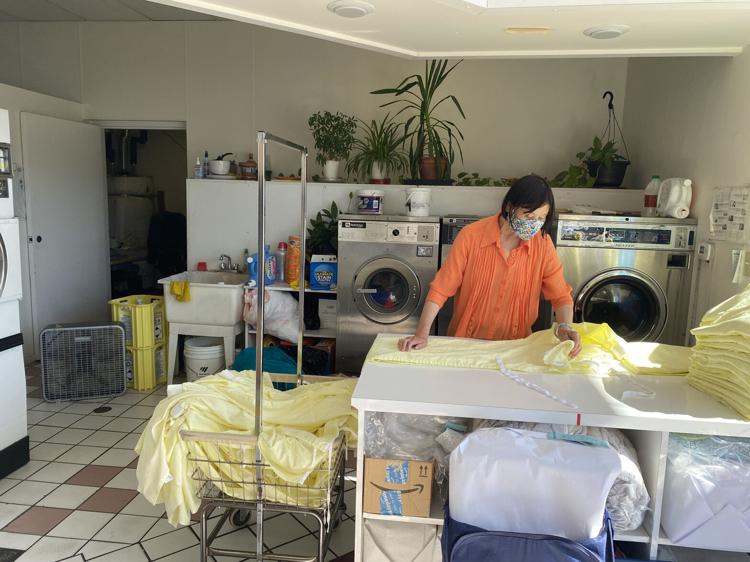 All Star Cleaners, a family-owned business with more than 20 years in San Mateo, are also facing many challenges. The business owner asked to be identified as Jenna Lau's husband. They run the business together.
"This is the toughest time," he said. "Compared to 2009 with the economic crisis, that was nothing."
In the beginning of the pandemic, they gave out free masks to our community and their customers. They are actively seeking out more service and business opportunities by offering pick up and delivery services within the San Mateo area. Their business has been down by 70%, he said.
"At one point, our business was down more than 99%," he said. "I put up a sign if customers needed service, to give a call."
They were unable to receive PPP and any other financial assistance for which they applied. Now they are trying to minimize their costs. They open later and close sooner by a half hour.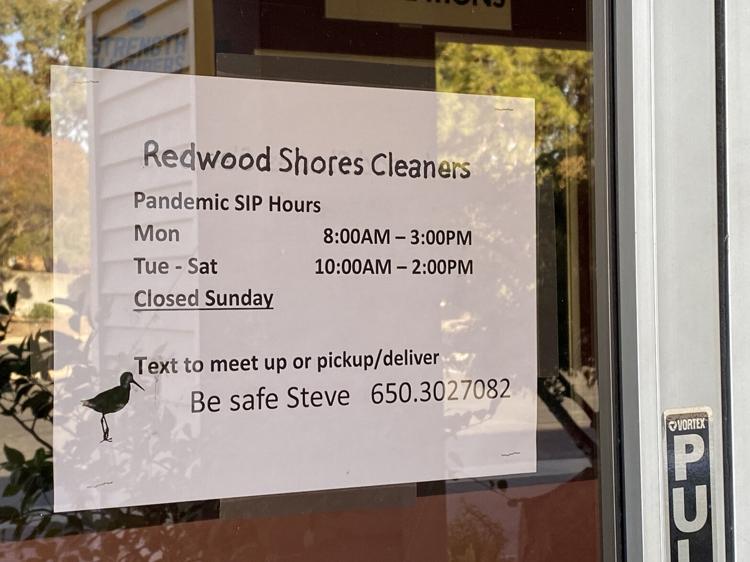 "That's our only income for our family," he said. "At the same time, we still have 10 years of this property from this landlord. Everything pushes us to stay in the business."
In & Out Cleaners in South San Francisco reduced hours to three days a week compared to five before the pandemic. The owner, Edmund Hung, changed the work phone number to his personal cell so customers or corporations could reach him more easily for business.
"I've been through it all," said Hung. "9/11, the financial crisis, all those, this is the worst."
Hung has worked in the business for 20 years now and is doing about 20% in sales now. He works alone. He had to let go his one employee. He has been approved for PPP and is waiting on the payments. Hung is hopeful of business improving by mid-next year. His worst fear is having to close down.
The owner of A-1 cleaners in Burlingame, who has asked not to share his name, has also had to cut back hours by starting later and closing sooner.
He has worked at the business for about 30 years after taking over for his uncle. Like the other dry cleaners, he says business has been very slow and revenue is going down. They had to let go of some employees and now currently have three people working. They were able to receive a short-term PPP but it wasn't enough to keep all his staff.
"Whatever we make, we're lucky we can make the rent," he said. "We try to hang in there. Whatever we made last year, we pay for this year."
Business has gone down between 50% to 70%. He says they had to ask the landlord for help and they were able to get half off rent for a few months starting in September.
"The reason we have cleaning is we have good customers who want to support us," he said. "They bring what they can to us to help us. They're loyal customers."
All these businesses have been taking precautions including enforcing masks and having one customer inside at a time.