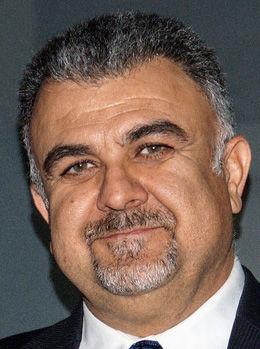 Belmont's longtime public works director, Afshin Oskoui, has been promoted to city manager.
Oskoui, who has worked for the city since 2011 and has more than 33 years of local government experience, was appointed interim city manager in June when former City Manager Greg Scoles retired. Oskoui's promotion is effective Sept. 1 and he will earn a base salary of $251,500. 
"I love my job, I love the community and I'm excited to get into this next chapter in my career with the community I enjoy being with," Oskoui said. "It's an exciting time for Belmont and glad to be part of it."
A subcommittee of the City Council comprised of Vice Mayor Warren Lieberman and Councilman Charles Stone has agreed on a contract with Oskoui and the entire council will vote on it at its regularly scheduled meeting Tuesday. 
"We are very confident Afshin will do a fantastic job in leading city staff. He's an excellent manager of people. We are very confident he'll do a fantastic job in leading the city staff," Lieberman said. "He has been no less than awesome with his communications with the community as Public Works director and he's made a strong showing of making sure information has gotten out to the public."
Liberman added that Oskoui's familiarity with the city will be an asset and said filling the position in-house is illustrative of a healthy and well-functioning City Hall.
"He knows the city, he knows the issues we're facing and the kind of community Belmont is," he said. "The fact that we had an internal candidate is a good demonstration that things have been going well in Belmont as we were planning for succession and Greg knew how to groom his staff for a smooth transition. I'm very excited about where we are and where we're heading."
Oskoui said he's looking forward to implementing recent city planning efforts, including the updated general plan and Belmont Village Specific Plan, the city's vision for a new downtown.
"I'm looking forward to partnering with the community and council to go from the planning to implementation phase," he said. "We've done a good job planning and working through some challenges and the next thing is hitting the road and making things happen and that's exciting."
Oskoui, who currently lives in Berkeley, began his career in public service as an engineer for the city of San Diego.
He said Belmont is a special city to work for. 
"The face-to-face interaction with the community, the great staff — it's lean, but people get things done and it's a testament to the quality of staff — the positive nature of the City Council and the work they've accomplished. All of those things make Belmont special," he said.