While the California water polo season is still months away from beginning the 2020-21 season, the final word on the 2019-20 season came during the summer with the release of the NISCA All-American water polo team lists, which included nine members of the Sacred Heart Prep and Menlo teams.
Menlo School boys' coach Jack Bowen remembers when his high school coach told him he was an All-American as a sophomore, "eighth team" he said, so he understands how special this kind of recognition is.
"When the list came out, I sent an email to them, 'Congratulations, your child is an All-American,'" Bowen said. "This is a really exciting award to get."
The National Interscholastic Swim Coaches Association is one of two major All-American water polo lists. The man who heads the NISCA All-American committee, John Kulusich, longtime coach at Villa Park High School in Southern California, is considered one of the most knowledgeable high school water polo experts around.
"He takes this seriously. … It's not like you're sending (your nominations) to some bureaucrat who is haphazardly picking names out of a hat," Bowen said.
On the boys' side, Menlo's Noah Housenbold was named a first-team All-American. Beginning his freshman year at Johns Hopkins University, Housenbold is a name that won't soon be forgotten around the Menlo pool.
"Guys called him 'The House,'" Bowen said of the 5-10 Housenbold. "He'll be one of the names that lingers for a while. He has this sense of tenaciousness and toughness. He never gives up."
Greg Hilderbrand, a junior who enters his third season at the varsity level, was named to the second team. Goalie Zayd Mahmoud, a senior this year, was a third-team selection, while Connor MacMitchell earned fourth-team honors.
Mahmoud's selection was the one that excited Bowen the most. Mahmoud split time last season with Josh Poulos, a heavily recruited college player, who is spending this year at an East Coast prep school. Bowen said it was a credit to the committee to see how good Mahmoud really was.
"Zayd has been very active in the Olympic Development Program. He may not have had the stats from the high school season, but the guy running this (Kulusich) said, 'This is the situation.'
"I'm doubly proud. In the same year, we had a heavily-recruited goalie (Poulos) and an All-American goalie. That's pretty cool."
Bowen was also proud of the fact that Mahmoud, St. Francis goalie Joseph Gallagher (second team) and first-team goalie Tony Golin of Dexter High School in Michigan, all earned All-American status. They all are part of Bowen's goalie training program.
On the girls' side, Sacred Heart Prep had four players make All-American, led by Eleanor Facey, the reigning Daily Journal Girls' Water Polo Player of the Year.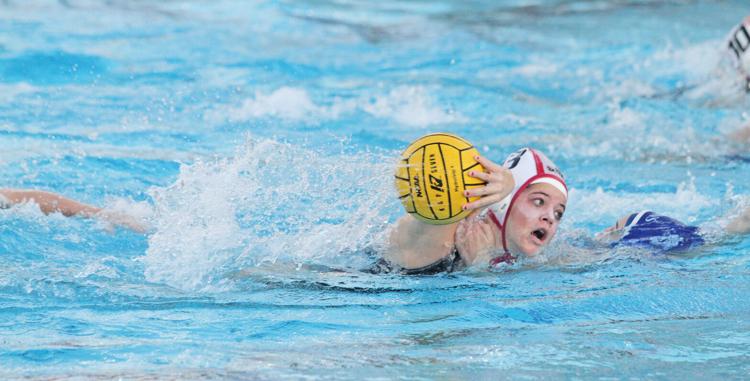 "This award is just unique because it is the only one that we have in our sport that is out of California," said SHP girls' head coach Jamie Frank. "This one is national recognition. Any time your athletes get recognized outside of the little bubble we are in, it's a big deal and a testament to a good team."
Entering her senior year, Facey is one of the top players in the state. She helped lead the Gators to their first title since 2016 and led the team in scoring with 76 goals.
Making the award even more special for the Facey family was that older sister Annabel, who graduated this past spring, was named to the third-team All-American list.
"They're really close," Frank said of the Facey sisters. "They push themselves to be better. To be on that (All-American) level with each other is a pretty cool thing."
Joining Annabel Facey on the third team was Bella Bachler, who enters her senior year with SHP. Another third-team selection was Menlo School's Sophie Golub.
Ella Woodhead was named to the second-team All-American list and will team with Eleanor Facey to give the Gators' a potent 1-2, inside-outside punch.
"Ella is more of a do-it-all (type of player). She'll do whatever it takes," Frank said. "I would say (she is) a Draymond Green type. A student of the game, who wants to push herself and her teammates."
The bulk of the NISCA All-American teams are comprised on players from California, which is where many of the top teams play. On the girls' side, 58 of the 78 players selected — four teams and an honorable mention list — are from California. The numbers are similar on the boys' side, with 34 of the 69 selections were from the state.
"Great athletes can come from anywhere," Frank said. "It's a testament to water polo doing well in our area."