Menlo junior Charlotte Tomkinson recorded the second fastest time in the state in the girls' 800 meters this season.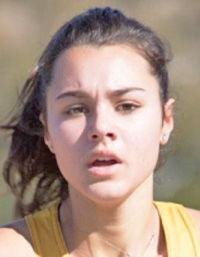 Marin Catholic sophomore Samantha Wallenstrom ran it less than a second faster, but it was enough for Wallenstrom to take the gold medal in the event Saturday at the CIF State Track and Field Championships at Buchanan High School in Clovis.
Tomkinson took silver with a personal record of 2 minutes, 9.41 seconds, while her second-place finish was the highest podium spot of anyone from San Mateo County. Wallenstrom held off the Menlo junior with time of 2:08.78. Menlo junior Kyra Pretre took 10th in the event at 2:13.95.
Terra Nova senior Carly Watts finished her prestigious high school career by claiming bronze in the girls' shot put, recording a top throw of 45 feet, 4 inches. Fowler senior Jocelynn Budwig took gold with a 4-02 3/4. Watts took sixth place in the shot at the state meet last season and is also the reigning two-time Central Coast Section champion in the event.
Notre Dame-Belmont senior Krissy Smoot took 11th in the shot at 40-11 3/4. Smoot took eighth place in the discus at 143-6. Watts placed 12th in the discus at 140-1.
In the girls' 3,200, Carlmont junior Kamei Gescuk took 13th place with a time of 10:43.23.
In the boys' 4x400 relay, Serra took eighth place with a time of 3:23.44. The team of Liam Kilbridge, Liam Pearl, Terence Loville and Nate Sanchez preceded that with the CCS' best time of the season in Friday's state preliminaries at 3:18.55.