As the season's first snows begin to blanket the mountains and the snowy parts of the country begin to settle in for their annual winter naps, a slight nip in the air and blue skies greeted several dozen U.S. military veterans, who in addition to their service to their country, also have the game of golf in common.
"These are the mornings you get in the Bay Area," said Max Hecker, operations manager of Northern California section of the PGA Foundation.
The Northern California PGA Foundation teamed with PGA HOPE (Helping Our Patriots Everywhere), Wells Fargo, Second Harvest Food Bank of Silicon Valley and Mariner's Point Golf Center Tuesday for the PGA HOPE's first-ever Drive, Chip and Putt competition for veterans.
PGA HOPE is a group that introduces golf to military veterans, free of charge, to, "enhance their physical, mental, social and emotional well-being," the group said in a press release.
Veterans who sign up for one of the "academy" sites based around the nation go through a six-week program to learn about the game of golf from PGA teachers and is capped by a graduation round of golf in a charity tournament.
But when the coronavirus pandemic shut down those plans in Northern California, organizers had to quickly pivot to something else. When the organization's previous golf course sites became unavailable because of COVID-19, Mariner's Point stepped into the breach, so to speak.
"PGA HOPE contacted me through Instagram. They said they needed emergency help," said Joe Ward, who serves as a marketing consultant for Mariner's Point.
"This wasn't in the works (until the summer)," said Sheri Sam, managing director of Northern California PGA Foundation.
"COVID canceled all the other events (we had planned)."
Sam played professional basketball for 14 seasons, with stints in the defunct American Basketball League, the WNBA and overseas, winning a WNBA title with the Seattle Storm in 2004. She is fully aware how the lessons learned in sports can be transferred to the game of life.
"I'm from the basketball world, but golf teaches the same lessons basketball did," Sam said.
With the cooperation and help of all involved, a competition was devised to allow the veterans a chance to test their skills against one another.
The format consisted of breaking up 40 veterans into three groups at three stations. Each golfer then got nine swings, moving to the different stations — three drives, three chips and three putts. Points were accrued based on distance and accuracy with the overall winner being announced during the post-round lunch.
For many, however, the event is more than just about the golf. It's also about the connections and re-connections that only men and women who served can understand.
"Coming into this program, I thought it was about golf," said William Stockholm, 42, a Marine gunnery sergeant who served two tours in Iraq and one in Afghanistan.
"But it's not about the golf," Stockholm continued, who lives in Vacaville and currently serves as an ambassador for Northern California PGA. "It's about helping you connect and communicate (with others) when you come out of service.
"PGA HOPE facilitates that."
Stockholm said he now plays three or four times a week and, as maddening as golf can be, he finds a therapeutic quality to it.
Plus, it beats what he experienced in battle.
"From where I've been, there is no such thing as a bad golf game," Stockholm said. "It's (about) perspective."
Anyone can take up the game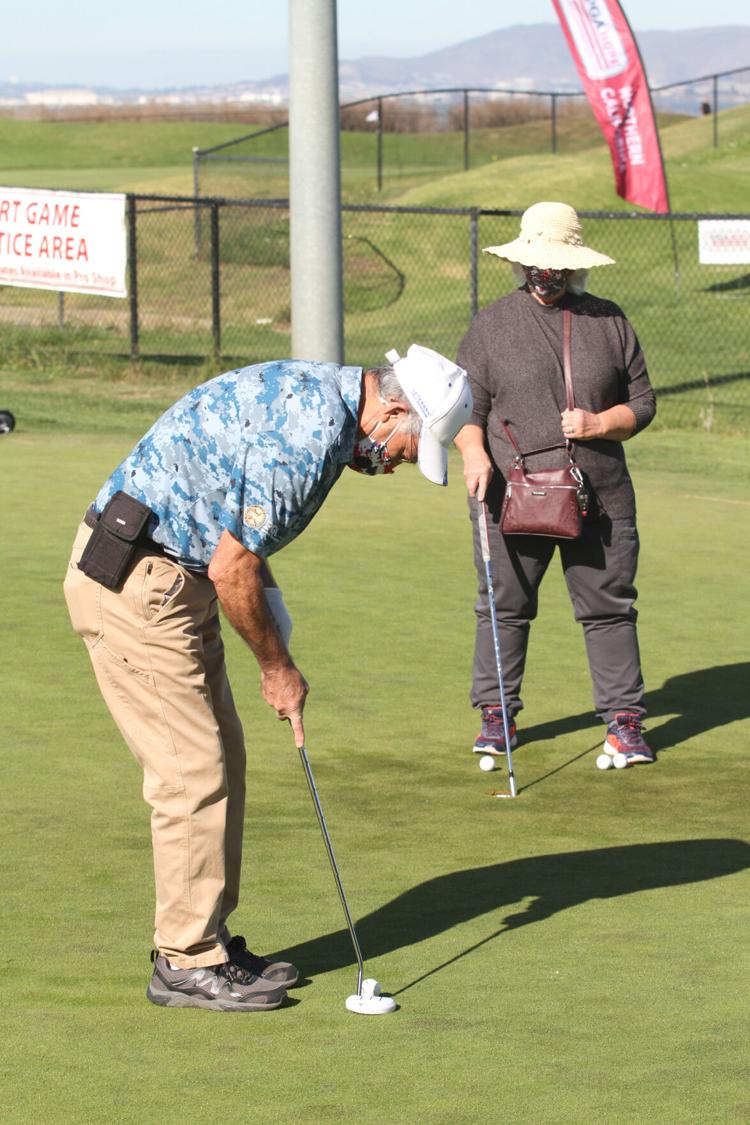 Carlos Franco, 71, of Castroville — "Artichoke capital of the world," he proudly proclaimed — served in the Marines as a medivac from 1969 to 1973 and took up the game just four years ago. He said he didn't want to sit at home, "and deteriorate on the couch."
Learning the game was made difficult by the fact Franco is visually impaired. The simplest way to describe his vision is to say he can't see the ball when he addresses it with his club.
But that hasn't limited him. Working with a "captain," in this case his wife Barbara, the two are a team. Barbara helps Carlos set up to his ball, tells him where to aim and the various distances he needs to hit while on the course. When on the putting green, the two work in tandem on reading the putt — Barbara by sight, Carlos from feel of the ground's undulation under his feet. Barbara then uses one of Carlos' irons to rattle around in the cup so Carlos can hear where his putts needs to go.
And he's pretty darn accurate, if his practice putting was any indication.
It wasn't long after enrolling in one of the PGA HOPE academies that Carlos Franco realized, like Stockholm, that the organization was about much more than golf.
"It really gives a lot to all the veterans who come out," Franco said. "It's a family."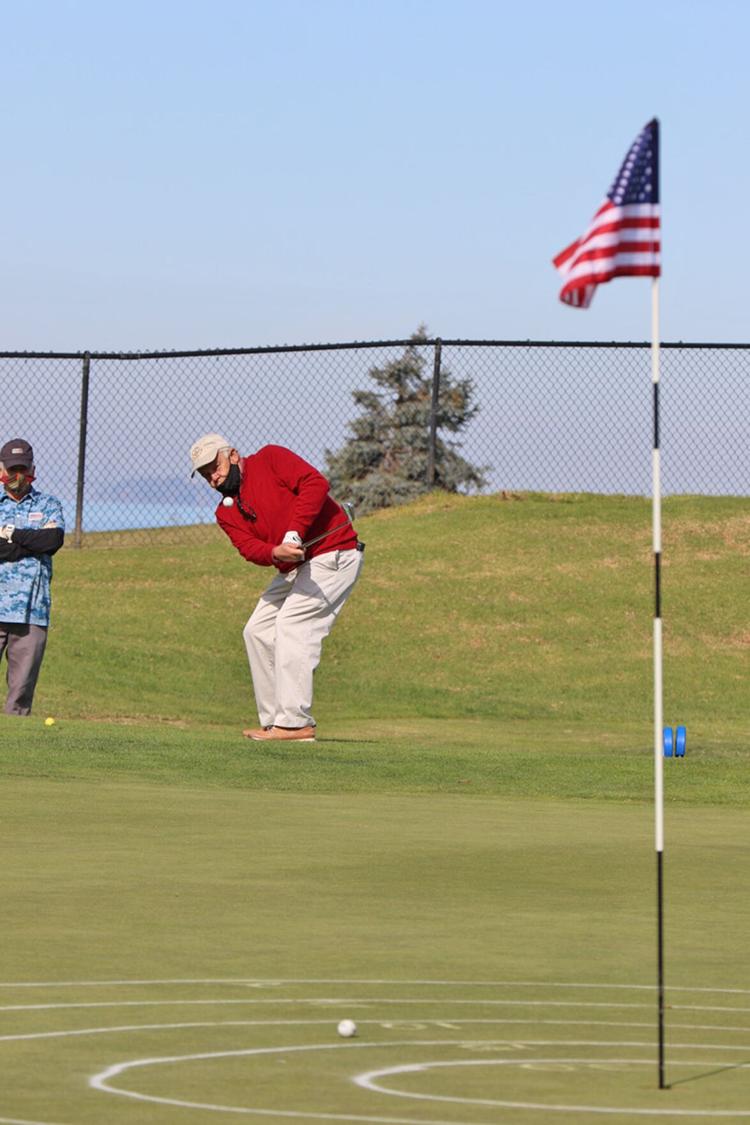 For San Francisco's John Reissenweber, golf, and the Department of Veterans Affairs, essentially saved his life. Reissenweber, 72, served in Army recon with a tour of duty in Vietnam in 1969-70, earning a Purple Heart. At one point, earlier in his life, he was playing golf to a 1-handicap.
But then Vietnam and life got in the way.
"I came back (from Vietnam) an alcoholic," Reissenweber said. After decades away from the sport, he tried to revive his golf game. But his demons and his own expectations kept him from regaining his previous form.
A self-described adrenaline junkie, Reissenweber said he would not commit suicide, but did admit, "I didn't care if I woke up in the morning."
But when he finally got medical and mental help from VA and enrolled with PGA HOPE, Reissenweber's life has turned around. He stopped drinking ("I got old. I couldn't handle it any more. It puts me to sleep.") and refocused on his golf game.
"I went from not giving a s— if I woke up, to now being out here three, four times a week," Reissenweber said. He said on Sunday, he hit six of the nine greens in regulation at Mariner's Point — in other words, he was putting for birdie on six of the nine holes.
And while there may be some veterans happy to be hanging out with their brothers and sisters, there are others, like Reissenweber, who get the competitive juices flowing.
"(My game) matters to me," Reissenweber said, who believes his can get his handicap down to 9 with enough work.
Bob Epperly, PGA HOPE lead instructor, may have said it best as he introduced and welcomed everyone during the opening ceremony.
"It's part competition, but it's always (about) camaraderie."