SAN JOSE — The second-seeded Santa Catalina softball team didn't need any more help when it took on third-seeded Half Moon Bay in a CCS Division II semifinal game.
With a minuscule strike zone, HMB starting pitcher Grace Garcia was forced to come in to the Santa Catalina batters and made HMB pay as Santa Catalina pulled away for an 11-4 win and ending HMB's season at San Jose's PAL Stadium Tuesday evening.
"Tough loss," said HMB Head Coach Rachel Catuiza. "[Garcia] had more walks than she normally does. It was just a bad (strike) zone. She was doing everything she could. It was hard."
Garcia ended up striking out 10 batters — which were offset by 11 walks. She walked the bases loaded and then walked in Santa Catalina's first run in the bottom of the first with her fourth walk of the inning. That, and a RBI single, gave Santa Catalina a 2-0 lead as Garcia would go on to strike out the side.
Marissa Terra carried the HMB offense as she drove in three of her team's four runs, despite having only one hit. Her groundout in the second inning drove in Riley Donovan, who had reached on a three-base error. She came up with a bloop single to shallow right in the third inning to plate Jericka D'Acquisto and hit a sacrifice fly to center to drive in Abby Claudius in the fifth.
Donovan, HMB's clean-up hitter, reached base in her three at-bats, but had only one really opportunity to swing the bat. She hit a towering drive to right field that the Santa Catalina right fielder could not squeeze and SC decided after that it would be wise not to give her anything to hit. Donovan walked in her next two appearances.
After Terra's second-inning RBI cut HMB's deficit in half, HMB took its only lead with a two-run third. With one out, Lily Moffitt doubled to the wall in left and scored when D'Acquisto's bunt was thrown away at first and she pulled into second. She would score on Terra's bloop single just out of reach of the second baseman in shallow right.
Santa Catalina would tie the game at 3 in the bottom half of the inning, however, and took charge of the game in the bottom of the fourth, as it scored three runs on five hits to take a 6-3 lead.
After a pop out to start the inning, Santa Catalina got a couple of wins-blown extra base hits. Emily Radner hit a ball to left that tailed away from HMB left fielder and rolled to the fence for a triple. She scored shortly thereafter on Abby Gunter's ball to left that turned into a double, an RBI and a 4-3 Santa Catalina lead.
Katie Fraley followed and hit a no-doubt-about-it triple to the right-center field gap for an RBI triple. She then scored on Emily Hayes' bloop single to right to put Santa Catalina up 6-3.
HMB got one run back in the top of the fifth to close to 6-4 when Abby Claudius led off the inning with a triple to the fence in left and scored on Terra's third RBI of the game — a sacrifice fly to center.
But Santa Catalina tacked on two more runs in the bottom of the fifth for an 8-4 advantage. It scored twice without he benefit of a hit — a hit batter, a pair of errors and a passed ball doomed HMB in the inning.
The final nail in the coffin for HMB was a bases-clearing double from Santa Catalina's Gunter in the bottom of the sixth as Santa Catalina took advantage of walks nine and 10 from Garcia to give it an 11-4 lead.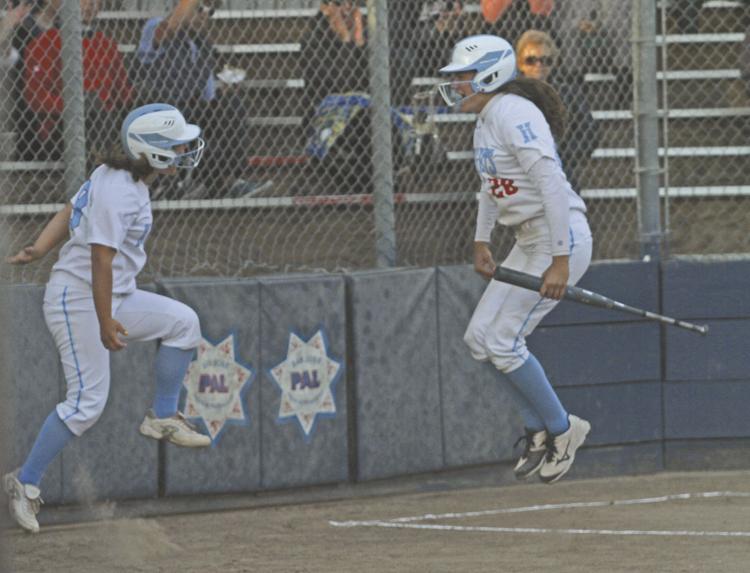 No. 5 Carmel 6, No. 1 Hillsdale 3
SAN JOSE — There will be no championship celebration for retiring Hillsdale head coach Randy Metheany as the top-seeded Knights saw their season end with the loss to the fifth-seeded Padres in the CCS Division II semifinals at San Jose's PAL Stadium.
For the second game in a row, Hillsdale (22-7) went to extra innings. But unlike Saturday's 10-8, eight-inning win over Sobrato, the Knights' luck ran out in the semifinals against Carmel (16-6).
It initially appeared as if Hillsdale would pull out another one as the Knights rallied from a 3-2 deficit with the tying run in the bottom of the sixth when Bella Zalba drove in Mika Chong to knot the game at 3-all.
The game went into the 11th when the Padres loaded the bases before a three-run double put them in control and ultimately turned out to be the game-winning hit.
It was a disappointing end for the Knights. After allowing an unearned run in the first inning, Hillsdale took the lead right back in the bottom of the frame. Sophia Eftakarri legged out an infield hit to lead off the game for the Knights. Following a flyout, freshman No. 3 hitter Mika Chong came to the plate. After taking a first-pitch strike, Chong crushed the next offering, sending it the fence in right-center field. Eftakarri scored easily and Chong was right behind for an inside-the-park home run and a 2-1 Hillsdale lead.
After that, however, Carmel starting pitcher Jessica Pavloff shut down the Knights, holding them hitless until Hillsdale scratched out the tying run in the sixth. In fact, Hillsdale hit only eight balls out of the infield all game long.
Carmel came back to take a 3-2 lead in the top of the fourth with two runs as the Padres strung together four hits in the inning before putting the Knights away with the three-run 11th.