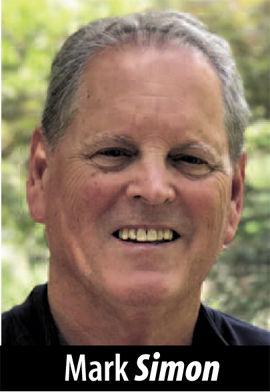 A week ago, while, no doubt, you were still recovering from ringing in 2020, some of us were working in the form of writing a Thursday column for The Daily Journal. In there I described a few reasons why I love living here and why it remains a place that captures my heart and spurs my enthusiasm. I asked you to write to me with your own thoughts, which often can be a risky business. The good news is that I don't have to resort to writing pretend comments from imaginary friends. In other words, thanks. And here goes.
A MOST PARTICULAR PLACE: Many of you echoed my first observation about the marvels of living in this wonderful place.
Longtime swimming buddy Judy Strauss said she is a docent at Año Nuevo State Park, which means she takes people to see the elephant seals for the first time and that she gets to see them herself.
Old friend and colleague Tim Goode reported on going to the Chase Center for the annual New Year's Eve "frivolity put on by Dead & Company. With Bill Walton, Wavy Gravy, (Ken) Kesey's and (Jerry) Garcia's daughters in suspended airplanes while a troupe of flapper dancers did their thing in front of the band. I thought, 'Thank god I'm not stuck in Indiana. Or Kansas. Or Ohio. It was a particularly Northern California party that was nourishing entertainment. And the music was phenomenal."
On the subject of music, Burlingame community activist Constance Quirk spoke up for "so many great live bands playing every week in city parks up and down the Peninsula and they are free to see. … I thank all of the city employees that put these events together." Quirk also very graciously added, "And hands down we have the best local newspaper."
I noted a week ago that we are minutes from the Bay, the Coastside and the Redwoods. Redwood City's John Seybert added that we're an hour from "amazing wineries, the beach, mountains, big city life, rural outposts" and our choice of hot or cool summer weather.
Like so many folks from the Peninsula, Rajendra Bhatnagar has a vacation home in the Sierras, just east of Arnold in Calaveras County, or as he calls it "our little piece of heaven. Many people go to Tahoe or Yosemite, but few even know of the wonders of Calaveras and Alpine counties. There are very few people who live there, and we rarely see any people visiting our favorite lakes and rivers. I think of our visits there as silent meditation."
AND A PARTICULAR PEOPLE: There may be no place quite like here when it comes to people.
"What do I like about our area?" wrote David Altscher. The diversity.(people, culture, ethnicity, etc.)."
Peter Borden cited the "intellectual firepower" of this region and it's a great observation. The people here are in the world and of the world and we are captivated and engaged by a range of concerns and issues that make this one of the most invigorating places to be. 
Jim Hartnett, SamTrans CEO and Caltrain executive director, said the same thing but in a distinct way: "It's home. It's the world's melting pot of people and can-do spirit. (There's) no place quite like it, but like more places than we think. We are underestimated by our bigger neighbors to the north and south. We take risks. When there is a will, we get things done in San Mateo County."
Millbrae Councilwoman Gina Papan sees all of it as a whole. "This is a community that comes together — gathering for all kinds of community events in all of the individual cities. I love that people will gather in the park or on the streets for a movie, a concert, a festival, New Year's celebration or to make a political statement." It is wonderful to see people of all ages, all ethnicities and all beliefs come together to enjoy the community that is San Mateo County."
And Papa Charlie, also known as longtime friend Mike Lynch, saw it in terms that were once personal and sweeping. Mike is a masters swim coach at Peninsula Covenant Community Center in Redwood City and begins every day at 5 a.m. on the pool deck. 
"I am additionally blessed by sunrises daily from where I work, and a faith community of which it is a part," he wrote. "Many mornings, I hear the sound of a freight train downtown, and am reminded that this town was and still is an industrial hub of commerce, a port city, county seat and it just feels good to be a part of a vibrant and active community."
Mark Simon is a veteran journalist, whose career included 15 years as an executive at SamTrans and Caltrain. He can be reached at marksimon@smdailyjournal.com.