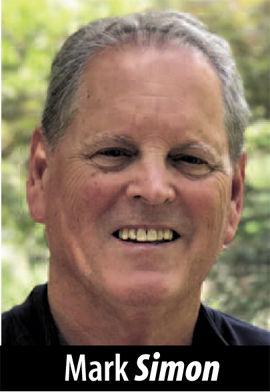 Writing a column is a lot like what we would call everyday life. You start out thinking you're going to do one thing, life intervenes, and you end up doing something else. Today's column, for example, was going to be a bunch of notes and items delivered in an engaging and fulfilling style. Just like always.
Then some guy named Bill Collins writes a screed for Your Friendly Neighborhood Daily Journal attacking the San Mateo County Community College District. I don't think it's my job to stick up for the district, but he certainly seems to think it's his to tear it down. His op-ed is riddled with factual errors and I can't help myself.
His criticism is that the college district has used a billion dollars of public money to build lavish campuses that are largely unused, betray the public interest and fail to serve the district's mission of educating students. He cites, in particular, the Wellness Center — he puts that in quotes to show he doesn't think it's a Wellness Center — at College of San Mateo and the one under construction at Cañada College in Redwood City.
We live in a fascinating time of malleable reality. Information is shape-shifted to fit a predetermined opinion. Mr. Collins is entitled to his own opinion, of course, but, as the saying goes, he's not entitled to his own facts. So, here we go.
His criticism is that the Wellness Center is being run for profit, "even students are charged $75 a month," and "these facilities are not built for instruction."
In full disclosure, something I suspect we have not enjoyed from Mr. Collins, I am a happy member of the San Mateo Athletic Club, which is part of the Wellness Center at CSM. I swim with the San Mateo Masters Swim Team (inviting unwelcome images of me in a Speedo), and I can attest that alone is very much a community activity.
Without question, the gym and two pools are heavily used by the community and by students and are serving a critical role in the health of our community. All it takes to know this is to go to the facility any weekday, which, it appears, Mr. Collins opted not to do. But beyond SMAC, the facility is used for instruction. The cosmetology program is plainly very busy, as are the programs teaching students in the fields of wellness and kinesiology.
Even students are charged a monthly fee and registration, he says. That implies we were told that these facilities would be free to students. They are as free as any other part of the college campus — classrooms, labs and so on. Students are charged fees to go to college. I don't believe this is a groundbreaking piece of information.
Meanwhile, by charging the public, the Athletic Club has become a generator of net revenue used to advance the district's educational mission.
This is my favorite part. Mr. Collins asserts the campuses are underused. Visit on any weekday and you'll see they are well populated with students who would not be going to college at all without these community colleges. It is a minority majority district — more than 71% nonwhite, including 22.8% Hispanic, 14.7% Asian, 13.5% multi-race and 9.6% Filipino. Women are 54.9% of the student population, men 45.1%.
When Mr. Collins says they are not true "community" colleges, perhaps he means his community, which appears to be somewhere and someone else. And by the way, Cañada is in Redwood City, not San Carlos, which is where Mr. Collins put it. Skyline College, of which I am a proud alumnus, is San Bruno, in case you need further geographic help.
Anyway, Mr. Collins' support for his assertion that the campuses are underused appears to be a new feature of our information ecosystem: Drive-by fact-finding. He wrote: "Visit Cañada, CSM or Skyline College some weekend, and typically, you won't find much going on. Cañada was deserted when I visited — hundreds of millions in facilities, unused."
Yep. Students don't take classes on weekends. I went to my local high school last Saturday. The whole place was closed up.
Anyone who truly visited the three campuses two decades ago and visited them now would be astonished at how much they have changed for the better. The colleges have undergone a building boom and now feature modern facilities and teacher housing that is considered a national model.
But given the times in which we live, I guess it should come as no surprise there are those who would tear down what we have spent so much time and treasure to build.
Mark Simon is a veteran journalist, whose career included 15 years as an executive at SamTrans and Caltrain. He can be reached at mark@smdailyjournal.com.