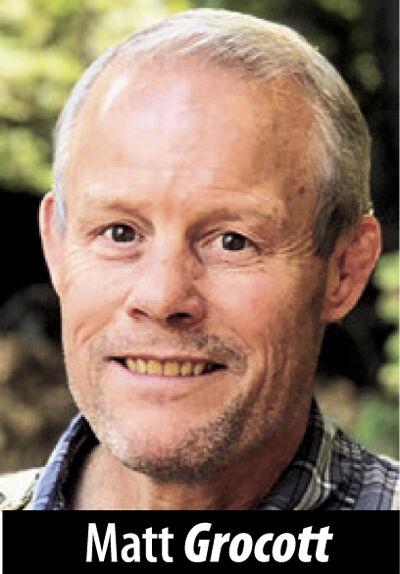 A little over a month ago, one of the Daily Journal readers wrote a letter to the paper and, in his final sentence, challenged me to read the U.S. Constitution. In a subsequent column, I offered for him to write again and point out the article or section he wished for me to review. I wasn't sure if he thought I should read the whole Constitution or if he had a particular part in mind. He never responded. Maybe he doesn't read the Journal as often as I thought or he had no particular point to make.
Jon Levinson is not the only reader to challenge what my knowledge of the Constitution is. In fact, there was another person who wrote a few weeks ago to question if I really had three copies and whether I'd ever gone to them for reference. I find these challenges strangely humorous because I deeply respect our Constitution. It is, after all, the contract between us and our government.
Reflecting back on when my interest in the U.S. Constitution was first piqued, I was in high school. A class on the Constitution, taught by the school's dean, was offered and I signed up for it. I remember Mr. Kibbe, peering at us from beneath his thick and wild eyebrows, barking out challenging questions across the large oak table we all sat around. "Grocott, why did they find the Articles of Confederation too weak for the country's purposes?" As a body of young, impressionable students, we were eager to learn from the master.
Unfortunately, after being so inspiringly introduced to the Constitution by Mr. Kibbe, I allowed other interests and concerns, typical of a young man, to bury the flame: sports, other school subjects, studying architecture in college, wrestling in college — not to mention an attempt at a social life. Fortunately, some time in my mid-30s, I came across a book browsing through Borders: "The Theme is Freedom," by M. Stanton Evans.
Reading the words written by Mr. Evans reignited the fire I had allowed to die to mere embers. From that point forward, I sought out and bought other books on the subject. Books like, "A Leap in the Dark," by John Ferling; "The 5000 Year Leap," by W. Cleon Skousen; "Empire of Liberty," by Gordon S. Wood; and ""Miracle in Philadelphia," by Catherine Drinker Bowen. To this day, I continue to gather books on the U.S. Constitution because I find the stories fascinating about how and why the Framers wrote what they did. Of course, one can simply read the Constitution itself but to know the back stories gives a much deeper understanding of the intents and purposes of those who wrote it.
While our U.S. Constitution is a wonderfully written document, displaying a genius and inspiration never before imagined, it does have one inherent weakness: It cannot stand on its own. Ultimately, it is merely words on a page. To stand, it requires an active and informed citizenry. That is why, if there were one wish I could make come true, it would be for every American to have a deep love and respect for our Constitution. Further, that those feelings would inspire them to become more familiar with it, then to study it more intimately, and finally — to have a firm understanding of each article, section and amendment.
Sadly, the number of us who can and will stand in defense of the Constitution wanes with each passing year. In part, this is because it is not taught in any meaningful way in our schools. Secondly, it is because of how little new citizens are expected to know and understand it.
Not helping the situation are two moves by the Biden administration which reversed actions implemented by former President Trump.
During Trump's presidency, he had directed that more extensive study material be given to those seeking citizenship. In tandem with that action, the test was revised to be twice the number of questions, from 10 to 20. One of the many executive orders signed by Joe Biden in his first week in office was to go back to the old, lesser material used under the Obama administration.
Secondly, president Trump had created an advisory "1776 Commission." The stated goal was "to produce a report summarizing the principles of the American founding and how those principles have shaped our country." His hope was that the report would lead to curriculum that could then be used in our schools to teach students about our country's heritage. However, when Joe Biden and Kamala Harris came into office, the whole project was scrapped.
Well, I know wishes are powerless but words can inspire. Hopefully this column inspires you — in defense of liberty — to read, study and know our beautiful Constitution.
A former member of the San Carlos City Council and mayor, Matt Grocott has been involved in political policy on the Peninsula for 17 years. He can be reached by email at mattgrocott@comcast.net.