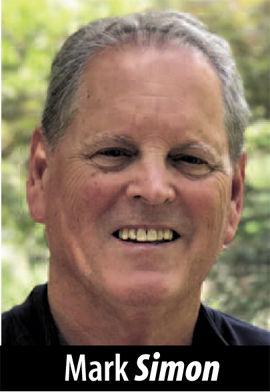 Thanks a lot. Well, gee, thanks a lot. Thanks, I guess.
Thank you for shopping with us. Thank you for holding.
Yep, it is a day of thanks, the national day of Thanks. Giving, that is. And I have been pondering thanks. The word, not the notion, which I wholeheartedly support without much need for deep reflection.
I believe in gratitude and I believe in the markers of a polite society. Except, I have to admit, when I am driving and I am surrounded by idiots, to quote Scar from "The Lion King." Under these conditions, I am not entirely polite, although, I have learned the essential importance of keeping the window rolled up when I decide to denounce other drivers out loud. ("Rolled up." There's a phrase from another era when windows were opened and closed with cranks, as opposed to cranky columnists.)
As for hand gestures while driving, no, no, no. I long have been convinced that the one time I let fly an impolite gesture, I will direct it toward some recently released, violent felon, who is saying to himself, "I haven't punched anyone all day." This also is a good time to keep the window up, by the way, since your face is sitting just about at perfect punching height and location.
It is a word that pops up all the time. Has it become little more than an existential hiccup? Is it used so much that it really has no real meaning, or pop? Sometimes you hear people trying to make it pack a little more punch: Thank you so, so much. Thank you so very much.
On text messaging, you can choose between Thanks and Thanks! (and also TY and do not get me started on that). I guess some people feel the need for an exclamation point in the belief it adds a little more oomph. As if the mere word is not enough. This would be the point.
If a sign at the end of a drive-thru lane reads "Thank you," is anyone really thanking you? Does a detached, nonhuman thank you count as a true thank you?
And while we are on the subject, which is my own obsessive and disturbing attention to certain language usages, here is something else I have noticed lately: When NPR news people interview someone, they end the interview by saying, "Thank you for being with us," or "Thank you for speaking with us today." That seems a courteous, if somewhat rote, way of ending the interview.
But then you hear the interviewee say, "Thank you for having me." This, I believe, is short for saying, "Thank you for having me on your show," or some variation on that. But NPR is not having someone — not having them on, not having them over for dinner, not having them for dinner.
What happened to saying, "You're welcome," or even, "It was my pleasure"?
And, by the way, when did "You're welcome" fade from the scene? Now, when someone brings you coffee and you say, "Thank you," they say, "No problem." And I think, "How nice. Doing their job is not a problem for them. How lucky for me."
Or is it simply that "no problem" has become the 2021 way of saying, "You're welcome," and I should just take it in that spirit and seek additional help from well-meaning counselors?
Would it be appropriate, as I am departing the drive-thru line, if I hold up my own sign that says, "You're welcome"?
And another thing. As we depart a store or a restaurant, people say, "Have a good one." Only one? Why can't I have two? How about saying to a football player, "Have a good half"? Or to someone who has nothing to do, "Have a good none."
And still another thing. Often, at a restaurant, as we are nearing the end of the meal, the server will ask, "Are you still working on that?" I want to reply, "I have done work. This is not it. This is dining, or eating or any number of other things that do not strike me as work. Is the food here of such a nature that it requires heavy lifting to plow through this meal?"
Yes, I am a lot of fun at dinner.
Where was I? Oh yes. Dinner. Thanks. Thanksgiving. It is a good day to take into account all we have and all we wish for and realize we have more than we could have hoped. It is a good day for a thanks that packs a little punch.
Mark Simon is a veteran journalist, whose career included 15 years as an executive at SamTrans and Caltrain. He can be reached at marksimon@smdailyjournal.com.