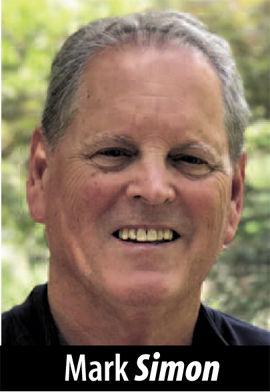 And here we are, in the final days of the most consequential election in the goofiest year in memory. COVID and voting. I tried to coin some clever mash-up of the two words, but I lost interest after a few tries, which sums up a lot of 2020.
But not now, and not the next five days, when one of the most consequential elections in memory comes to a crescendo.
As we race to the finish line, here are a few items and a few thoughts.
I LOVE VOTING: The first time I was old enough, my college roommate, Bill Paterson, and I piled into his 1962 Ford Galaxy, the Gray Ghost, and drove up from San Jose to cast our first ballot in person. I got to the polling place at the same time as my dad and we voted side by side. Very cool.
With that moment well behind me, I am forced to ask: What have we become? I'm thinking of the efforts to undermine voting — raising false claims about the veracity of the process, making it more difficult to vote, discouraging people from participating. This is deeply and personally offensive to me. It is the height of cynicism. It is un-American. It is a betrayal of the essence of what our country should be. The fact that these efforts specifically target minority voters is the very definition of racism.
What do we do? To me, it comes down to this: stand up, suit up, show up. If living well is the best revenge, voting is the best response.
Remember: We vote by mail. If the race is close, it will be three weeks before we know who won. We used to think a fast result — San Mateo County's much-vaunted "snap tally" — signified a credible count. Now, we know that the three weeks are neither a delay, nor are they signs of shenanigans — it means that elections officials are taking the time to verify signatures and conduct a credible count. Meanwhile, it will be an agonizing three weeks, so be kind to all the candidates who might be waiting.
AH, SWEET BIRD OF YOUTH: It always hands me a laugh to read that someone is "too young" to run for office. Nope. The law says 18 is old enough, and I say good for JT Eden in San Carlos. While we're on the subject of youth, I am equally amused by the ballot argument against Proposition 18, sponsored by my Peninsula TV partner Kevin Mullin. It would mean that 17-year-olds who turn 18 by the general election can vote in the primary election leading up to the general. The no side says 17-year-olds lack the emotional and intellectual maturity necessary to vote. If you're an immature lunkhead on Nov. 2, suddenly you're a mature, thoughtful voter on Nov. 3? I know plenty of people much older than 17 who are neither emotionally nor intellectually mature, starting, of course, with me.
A FEW NOTES: Perhaps the goofiest campaign is being run by Saratoga Councilman Democrat Rishi Kumar, who is challenging incumbent Congresswoman Anna Eshoo. If long, rambling, boastful and offensive rhetoric is your thing, look at one of the verbose hit pieces produced by Kumar. My favorite claim is that he reduced crime in Saratoga, which raises so many questions it's hard to know where to start. Is Rishi Kumar Batman? … Another example of why San Mateo County should stop taking a backseat to San Francisco: The ballot pamphlet analysis of Proposition 15, the proposal to raise taxes on commercial property, notes that passage would generate an additional $770 million in property tax revenue in San Mateo County. In San Francisco, it's $733 million. … Make a wordcloud of the terse haikulike slogans used by candidates to highlight their qualities, and you'll find that the qualities they think you value most are experience and leadership with trust a distant third.
HONEST MISTAKES, HONESTLY: So far this election season, I have mixed up candidate's names, made bonehead math mistakes, misread campaign spending reports and strayed into factual error to support an opinion. I try always to correct my own mistakes and I've certainly made more than my share this election cycle. It has been an ongoing source of personal and professional concern. All I can tell you is that I'll try to do better. Which leads to this one: The California Apartment Association plunked down $16,473 on an independent mass mailing in support of San Mateo City Council Lisa Diaz Nash, not the much larger amount I reported. The balance of the money in the CAA report will go elsewhere, I am told.
Mark Simon is a veteran journalist, whose career included 15 years as an executive at SamTrans and Caltrain. He can be reached at marksimon@smdailyjournal.com.