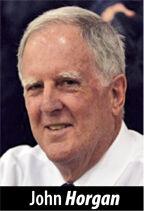 The airline magazine article proved to be a reminder. It was a readers' choice travel list, almost innocuous but nonetheless instructive. 
Only the best in a variety of categories were noted. That was the whole point. Excellence, or at least excellence as defined by the airline's customers, was what mattered. 
Sadly, that's not so much the case in the tortured realm of academia. There, slowly but surely, efforts continue to nibble away and eliminate clear signs of outstanding work.
Some schools have abandoned letter grades. Where there was once a single valedictorian at graduation ceremonies, there are now whole gaggles of them.
Grade point averages have soared to outlandish heights in too many cases. Testing, especially standardized testing as a vital analytical tool, is increasingly seen as somehow discriminatory, unfair and, by definition, inaccurate. 
The very concept of an honor roll is viewed as being dangerous to the self-esteem of those left off the list, at least in some enlightened quarters.
Fortunately, there is a prominent holdout in this miasma of misplaced thinking. The National Merit Scholarship Corp. continues to hand out yearly awards based, in large measure, on actual, measurable academic achievement. 
These are prestigious honors precisely because, for the most part, they are based on merit, although certain other factors are involved as well. Thirty San Mateo County seniors in the Class of 2021 have captured those prizes. They are as follows: 
Alexandra Aroff, Carlmont; Jane Brockett, Sacred Heart Prep; Alex Chen, Nueva; Hubert Chen, Burlingame; Novak Chernesky, Crystal Springs-Uplands; Alexandra Dimitrall, Castilleja (Palo Alto); William Drew, Nueva; Sarah Fujimori, Menlo School; Eric Gan, Aragon; Charlotte Ho, Crystal Springs-Uplands; Corwin Jones, Half Moon Bay; Meghan Kelly, Mills; Joshua Lowe, Menlo School; Jessica Ma, Carlmont; Ronan Manning, Serra; Sathvik Nori, Menlo-Atherton; Adam Ousherovitch, Hillsdale; Rachel Park, Menlo-Atherton; Aditya Pathak, Serra; Finn Roblin, Sacred Heart Prep; Mathew Sakiyama, Nueva; Arth Shukla, Sequoia; Kayla Shiao, Aragon; Evan Stelman, Nueva; Katherine Tung, Menlo School; Alexander Waitz, Menlo-Atherton; Evan Wong, Carlmont; Lauren Wong, Nueva; Lucy Yin, Aragon; and Jessica Zhang, Proof School (SF).
A DISTURBING SCENE AT SFO: Let's just call it another unsettling scene from the seemingly endless COVID Era of Discontent. It happened last week in Terminal 3 at San Francisco International Airport.
Once again, masking, or lack of same, was the issue. It wasn't pretty.
An older gentleman being transported in a wheeled SFO courtesy chair was screaming vulgarities at a younger man who was not wearing his protective mask properly. 
The mask was hanging down below his nose and mouth. It was essentially useless in defiance of the airport's masking mandate. He was also firing back with obscenities of his own.
To say it was uncomfortable to watch and listen to would be an understatement. The mutual hatred was palpable. The venom was shocking.
There was one more thing making the verbal confrontation even more unattractive: The old guy was white and the younger fellow was Black. 
However, during the 45 or fewer seconds I was near enough to hear, no racial epithets were hurled by either party.
Nonetheless, it was one more case of the discord and unpleasantness created by a nagging pandemic that continues to ebb and flow on a weekly basis, turning people against one another in the process.
BASEBALL CAN BE CONFUSING: Baseball is not an easy sport to understand. It's unlike any other popular American athletic pastime. 
There are so many unique oddities, strange rules and weird nuances that folks can be forgiven if they cannot figure out what's going on. 
The Giants, our local professional outfit, have been making it even harder to fathom their daily machinations by listing their occasional starting pitcher as someone named TBD.
This is a guy who has no won-lost record, no earned run average, no photograph and no biography. He's essentially faceless, devoid of persona and performance. He's not like FDR or AOC.
TBD stands for "To Be Determined." In other words, we really have no firm notion of who's going to start the next ballgame. But, so far, TBD has helped the Giants make hay in the National League standings.
EL CAMINO'S JIM CRESTA DIES: On a sad and final note, Jim Cresta, a fixture on the teaching staff at El Camino High School, died earlier this week.
A dedicated health and auto shop instructor in the South San Francisco Unified School District, he worked at El Camino from 1964 to 2021, a staggering span of 57 years of service that embraced 11 different U.S. presidential administrations.
He had one of the longest teaching tenures in a public high school district in San Mateo County history.