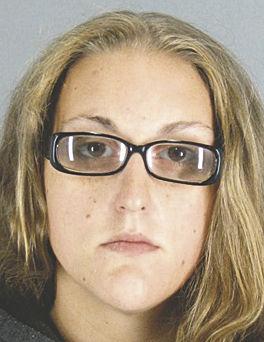 A Sept. 4 jury trial date was set Tuesday for a 26-year-old woman accused of attempted murder for allegedly trying to drown the baby boy she just gave birth to in the restroom of a Redwood City McDonald's restaurant last September, according to the San Mateo County District Attorney's Office.
Tuesday's trial setting will mark the second one since the June 1 Superior Court arraignment of Redwood City resident Sarah Lockner. If there are no further delays, the trial would begin exactly a year after her alleged offense, according to prosecutors.
On Sept. 4, 2017, Lockner was allegedly working an evening shift at the fast-food restaurant when she made repeated trips to the restroom, citing stomach pain. At around 10 p.m., her manager suggested she go home but, even after clocking out of her shift, Lockner allegedly stayed at the restaurant in the restroom, according to prosecutors.
One employee who checked on Lockner saw blood surrounding the stall. When a second employee checked on her, she looked over Lockner's stall and allegedly saw her holding the baby facedown in the toilet bowl. She allegedly heard the toilet flush when she stepped down and alerted police, despite Lockner's request that she not alert authorities, according to prosecutors.
Though the child was without a pulse and not breathing when police arrived, he responded to emergency care at the hospital. Lockner allegedly told police at the scene she didn't know she was pregnant and was surprised the baby was born, according to prosecutors.
At a two-day preliminary hearing in May and another hearing last week, Lockner's defense attorney Jonathan McDougall attempted to have her charges thrown out. In May, McDougall brought a witnesses to the stand who could attest to a prior incident in which she was allegedly unaware she was pregnant and gave birth to her now 4-year-old child.
Lockner reportedly walked into the bathroom of her apartment while her boyfriend and aunt were there and came out with a newborn baby. None of the parties, including Lockner, were aware she was pregnant at the time, according to prosecutors.
In reviewing a motion to dismiss her charges Thursday, a judge allegedly found Lockner's purchases of trash bags and sanitary pads as sufficient evidence to keep in place her charges of premeditated attempted murder, according to prosecutors.
Lockner remains in custody on $11 million bail, according to prosecutors.