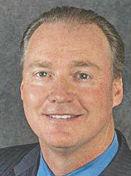 After roughly two decades of leading the San Mateo County Community College District, Chancellor Ron Galatolo announced a decision to leave the Peninsula's only college system.
With a departure characterized as a mutual agreement developed gradually with the Board of Trustees, Galatolo said Monday, Aug. 12, he intends to stay with the district over the next several months to smooth the transition to his successor.
College of San Mateo President Michael Clair will temporarily take the top spot of the district comprised of three campuses to fill the void by Galatolo, who said he looks forward to phasing out a term as chief official which started in 2001.
"This is a transition that we all experience in our lives and I look forward to the next chapter and supporting the district any way that I can," said Galatolo, who was first hired by the district as an assistant administrator in 1999.
A top priority for Galatolo in his next role will be working with state lawmakers toward establishment of a California State University branch along the Peninsula, according to board President Maurice Goodman in a prepared statement.
"We came to the mutual understanding that in order to give this dream the best opportunity for success, it was going to take the owner of the vision to focus solely on making this monumental goal into a reality," said Goodman in the prepared statement. "In my mind, there is no doubt that Ron Galatolo is the only person who can lead this effort."
Goodman and district officials have supported an effort by state Sen. Jerry Hill, D-San Mateo, and Assemblyman Kevin Mullin, D-South San Francisco, seeking to make Cañada College a member of the California State University system.
Community college students are able to get degrees in fields which are not offered in the state university system. But making Cañada College a member of the system would broaden the horizons of local students who may wish to attend, but struggle to reach regional state school campuses in San Jose or San Francisco, Goodman has said.
Galatolo's departure comes as the school district arrives at the brink of a new school year, with a variety of other critical initiatives on the horizon. Among those efforts include broadening the district's programs to meet the educational needs of an evolving student population continuously grappling with the increasing cost of living while fending off other potential threats to their quality of life.
Officials recently have weighed a proposal to build housing for students, while also balancing a proposal from Assemblyman Marc Berman, D-Palo Alto, to mandate community college districts to allow students to sleep on campuses overnight.
The competing initiatives ostensibly seek to solve the same affordability issues faced by students across the Bay Area who struggle to advance their education while also juggling career and family obligations.
To ease the path for those students, Galatolo helped establish the Promise Program, which helps limits the cost of education by offering books, food and other services at a reduced cost to students needing additional financial assistance.
He also oversaw the creation of an affordable staff housing development program which is recognized by other local school systems as a model for attracting and retaining teachers.
Galatolo touted his guidance in the district's ability to pass bond and parcel tax initiatives to further solidify the school system's financial footing and improve its facilities in a prepared statement as well.
His term at the top of the district was not without its hurdles, however, as a fumbled attempt to sell the district's television station in an auction gave way to a separate deal for considerably less money than initially expected.
The district was excluded from a $114 million auction sale in 2017 for KCSM-TV, leading to competing lawsuits from the school system and a contractor hired to facilitate the process. The district eventually sold the station to another broadcaster for $12 million.
Galatolo also raised eyebrows for spending habits on recruitment trips, when he was found in 2016 to have used district funds to purchase alcohol. District officials defended the behavior at the time and ultimately amended policy to clarify what is considered acceptable use of the district's tab.
Reflecting on his time at the district, Galatolo said he was proud of the variety of achievements accumulated under his belt during his 20 years. He also expressed certainty the district would thrive with new leadership.
"We have outstanding faculty and staff. They are on a really strong trajectory and I have all the faith that trajectory will continue," he said.