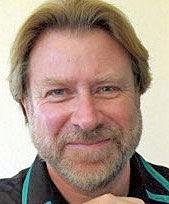 Redwood Symphony's opening concert of its 35th season, at Cañada College on Saturday, Sept. 28, centered on the "Háry János Suite" by Hungarian composer Zoltán Kodály. This raucous opera suite of violently contrasting music is a popular work in performance whenever an orchestra can find the most exotic necessary instrument, a cimbalom.
The cimbalom is an enormous — it weighs more than 200 pounds — and fully chromatic Hungarian hammered dulcimer. It's used in only two of the suite's six movements, but its bristly twang makes the work's sound distinctive. Redwood acquired a local performer, Jay Stebley of Sacramento, who wielded his hammers as a soloist seated in front of the orchestra. Regrettably, the sound did not carry as well as in other performances I've heard, so it was sometimes hard to make out what the cimbalom was adding to the orchestra.
If that was hard to hear, the winds and brass were not. Especially in the battle scene and the depiction of a Viennese musical clock, all these instruments in their multitudes rang out clearly and boldly, with a sureness of approach gratifying to hear from a volunteer orchestra.
The other three pieces in the concert all struck off from various features of "Háry János." Do we have a lot of brass? Then let's play "Street Song" by Michael Tilson Thomas and commemorate its composer's 25th and final year as music director of the San Francisco Symphony. "Street Song" is no brief fanfare. A fairly long and thoughtful work, it's modern in harmony but still lyrical. A work for 12 brass instruments is unlikely to be quiet, but "Street Song" is as gentle and restrained as such a combination is likely to get. And it was very well played by the brass players lined up along the back of the stage as everyone else exited after the Kodály.
Next question, Do we have a cimbalom? Then let's play one of the few other classical concert works to require one, Igor Stravinsky's "Ragtime." This piece for a mixed ensemble of 11 instruments, seated in a cluster to the left of conductor Eric K, sounds less like ragtime or jazz than like typical Stravinsky. It's full of off-kilter rhythms and interjected punches. Its jaunty tone could be nicely visually characterized by the fedora perched on trumpeter Stephen Ruppenthal's head.
And lastly, is this music Hungarian? Then let's complement it with Johannes Brahms's Piano Quartet in G Minor, Op. 25, known for its lively Hungarian-inspired finale. But this time, instead of playing Brahms' chamber music original, make room instead for the orchestration by Arnold Schoenberg. This is one of the strangest orchestrations in the repertoire. Schoenberg remained true to Brahms' harmonies and technical requirements, but his style of bright shining colors is utterly unlike Brahms's mellow, blended sound. The result doesn't sound at all like Brahms, but it's a colorful and enjoyable work.
In this performance, the tricky part became the balance between sections of the orchestra. Where Schoenberg attempts a bold, clear sound in the orchestration, this came out somewhat muddied, due to the sections running over each other. Even accounting for that, though, it was an exciting and enjoyable performance.
Redwood Symphony has more unusual programs coming up. After an Oct. 27 Halloween family concert, the next regular program will be on Nov. 23. This will feature works by living composers, notably the popular duo of Mason Bates and Cynthia Lee Wong. There will also be film music by Alexandre Desplat from "The Shape of Water" and by Rachel Portman from "The Cider House Rules."