SAN JOSE — It was a cool philosophy on a sweltering hot afternoon in San Jose that ruled the day for the Sequoia Ravens.
It's a phrase Sequoia manager Mike Doyle has repeated throughout the year to fire up his offense. And the firepower of No. 8-seed Sequoia (22-3) responded yet again Wednesday, rallying past No. 4 Leland for a 5-2 victory in the Central Coast Section Division II baseball semifinals.
"Our team crushes the ball," Sequoia catcher JP Boyle said. "We put up the most runs in our league this year. We've just been hitting the ball great. Our coach always says something about an avalanche: Be the bit of snow and then the ball starts, and then the whole avalanche starts."
Boyle started the avalanche in the fifth inning, wrecking a perfectly good pitching duel with a mammoth two-run home run to right-center to break a scoreless tie.
The left-handed hitting senior had two pitches to hit in the at-bat against Leland starter Owen Quast. The first one, Boyle fouled off. But on the way back to the batter's box, he got some words from encouragement from on-deck hitter Ben Singler that stuck with him.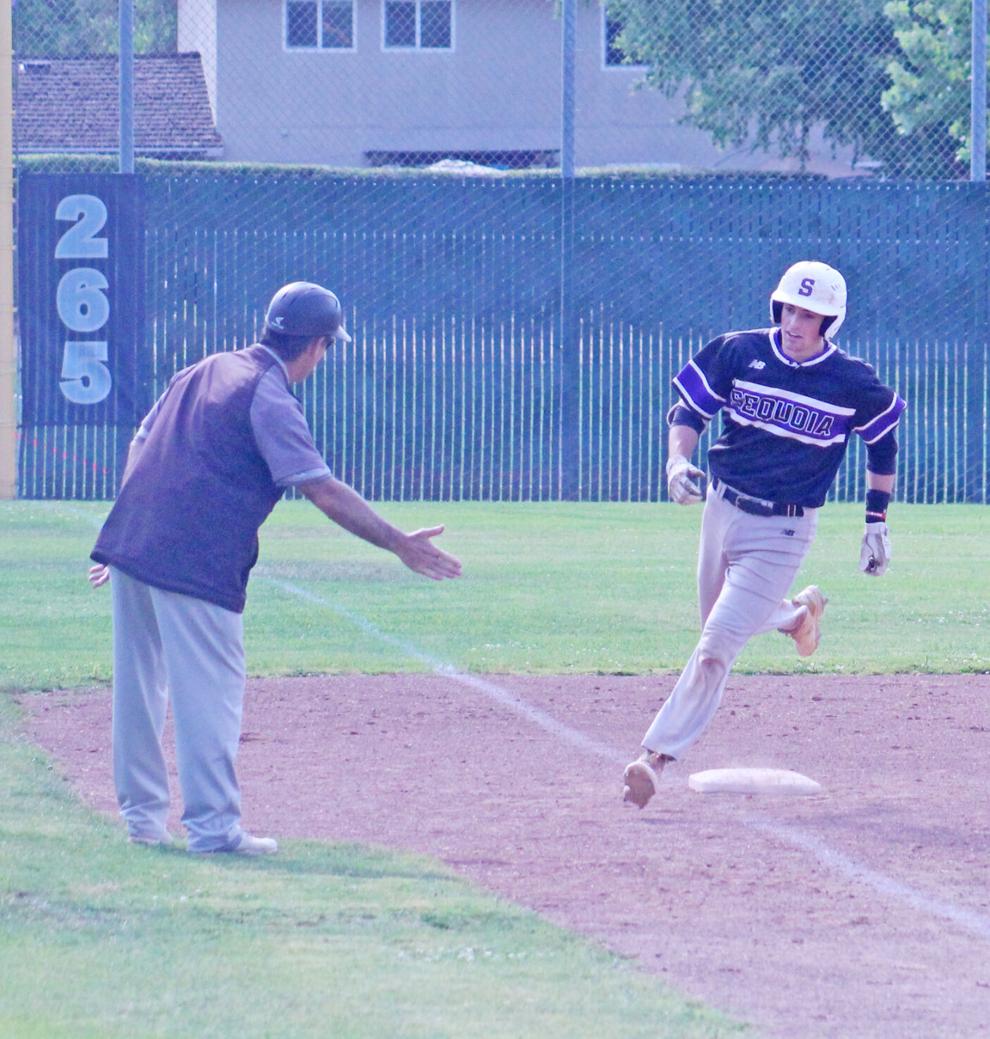 "On the foul ball, I was coming back, my boy Ben Singler, he was like: 'You've got to crush the next one,'" Boyle said. "And as soon as I hit it, I just started running."
Quast and Sequoia starter Oliver Montclare locked up for a splendid display of pitching on CCS's penultimate stage.
Quast battled through early jams but made clutch pitches to keep the Ravens off the board through the early innings. Montclare, meanwhile, set down the first 10 batters he faced en route to working five-plus innings to improve his record to 8-1.
"He's our cerebral assassin and he went to work today," Doyle said. "For the magnitude of the game, it's the best he's looked all year. He's had some gems for us, but nothing beat today."
After Leland (13-12) wrecked Montclare's perfecto in the fourth inning, his defense went to work behind him — namely, senior second baseman Max McLellan.
With two on and one out, the Chargers missed their best chance to jump out front when McLellan robbed Jarod Reyes of an RBI single. Reyes shot a fading liner into the hole between first and second, but McLellan got a great first step and made a lunging grab with a tumble to the outfield grass to make the second out of the inning.
Leland senior Ethan Shaver followed with a soft liner to second to end the inning. McLellan finished the day with five putouts at second base. The kicker is, he only moved to second base three weeks ago. On Sequoia's official roster, McLellan lists at several positions — catcher, third base and outfield — but none of them second base.
"He's made some plays at second base that I'm not sure any other second baseman could make," Doyle said. "He's that fast, that athletic, gets that kind of a jump. He's done phenomenal. And he was a difference maker for us today at second base."
McLellan was a hit with the bat Wednesday as well.
Leland got a run back in the bottom of the fifth — Niko Vega led off with a double and later scored on an RBI groundout by David Hsiao — but Sequoia exploded for three more runs in the top of the sixth.
Cleanup hitter Dillon Goetz led off the sixth with a double, and Rocky Knuedler and Nick Swee walked to load the bases with two outs. McLellan, the No. 9 hitter, proceded to battle through an eight-pitch at-bat before shooting an RBI single to right field. Just as crucial to upping Sequoia's lead, he turned over the batting order to bring red-hot leadoff hitter Kai Holm to the plate.
"I feel like Max's hit started the avalanche to get us going," Holm said.
Holm followed with a two-run single to right-center to give Sequoia a 5-1 lead. Holm was 3 for 3 on the day and reached base in all four of his plate appearances. He is now 5 for 7 with three RBIs through the Ravens' two CCS games and has recorded four consecutive multi-hit games.
Leland threatened in the bottom of the seventh against Sequoia closer Cole Kenyon. With two on and two out, Dylan Unangst lifted a sinking liner to left field that Goetz misplayed, allowing Enzo Chiavettone to score. But Reyes followed with a fly ball right at Goetz in left to end it.
"This feels good," Holm said. "We've been working the whole season for it. Last year, we had a great team, but it got cut short. So, this year it was definitely good to get that bond again to get us to the championship."
Sequoia now returns to the CCS championship game for the first time since winning the Division II title in 1994. The Ravens travel to No. 2 San Benito Saturday for an 11 a.m. start.
The Ravens are one of two No. 8 seeds remaining throughout the six eight-team CCS tournaments, along with Gilroy in the Division V bracket. But, pssh, seedings, shmeedings.
"I thought we were under-seeded at first," Boyle said. "But who cares? Let's just play our way to the top."