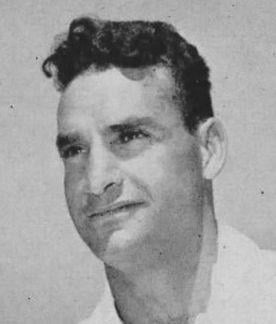 Jesse Freitas, a former head football coach at Serra High School, died at his San Diego home in the early morning hours of Monday, May 18, at the age of 99. His son, James, said the cause was cancer.
Jesse Freitas was a native of Red Bluff. A quarterback and defensive back, he played football for Santa Clara University in the years leading up to World War II. He later played professionally for the San Francisco 49ers in 1946, their inaugural season, the Chicago Rockets and the Buffalo Bills.
At the time of his passing, he was the oldest living player from the 49ers franchise.
A decorated veteran of the U.S. Army during the war, earning a Bronze Star, he commanded an artillery unit at the Battle of the Bulge.
After his playing days were over, he became a coaching jack-of-all trades at Serra early in the 1950s. For several years, he coached football, basketball and baseball. He was also a classroom teacher.
His teams, which featured an innovative, wide open passing attack at a time when offenses were far more conservative, captured seven Catholic league championships, four in the old CAL and three in the WCAL.
His 1954 team is the last Serra varsity to go unbeaten at 9-0. Perhaps his finest Serra team was the 1968 version which included three future pros and produced a 9-1 record, losing only to Vallejo by a single point. His overall record at the school was 102-49-3. Serra's football field is named in his honor.
Both of his sons, James and the late Jesse, were outstanding quarterbacks at Serra as well. The latter led the nation in passing as a collegian at San Diego State and played professionally for the San Diego Chargers. James was a standout at Long Beach State. Jesse died in 2015.
The elder Freitas is survived by his son, James, a daughter, Lynn Nichols, his devoted partner, Mena DeNegro, eight grandchildren and one great-grandchild.
Funeral services have not been announced due to the ongoing pandemic.