Since making his major league debut in 2014, former Aragon star Sam Tuivailala has been trying to find his niche.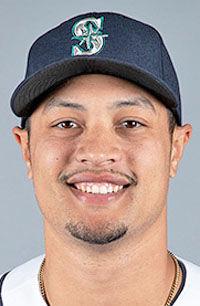 The right-handed reliever for the Seattle Mariners is pitching for his second team after a midseason trade in 2018 from St. Louis. Struggles with control earlier in his career, combined with a season-ending Achilles injury last season, have prevented him from defining any kind of bullpen role.
In this new era of opening pitchers — first developed by the Tampa Bay Rays, and debuted by former Giants closer Sergio Romo on May 19, 2018 with a perfect three-strikeout first inning in Anaheim — the first inning has thus far been Tuivailala's ticket to consistency.
Tuivailala returned July 16 after recovering from Achilles surgery, and after a rough debut in Oakland has recorded six straight scoreless outings. Two of those outings, both in August, have come in the first inning as an opener.
While Tampa Bay's Ryan Yarbrough stole the show in the Rays' 2-0 win Sunday over the Mariners — firing a career-high 8 2/3 innings as Tampa Bay uncharacteristically bypassed the use of on opener for its young left-hander — Tuivailala set down the side in order in the first. Seattle left-hander Wade LeBlanc ultimately took the loss.
Through seven appearances, Tuivailala is now 1-0 with a 2.45 ERA, striking out nine against three walks through 7 1/3 innings.
Outman's slam hits jackpot
Dodgers farmhand James Outman, a 2015 graduate of Serra, continued his red-hot August, hitting a grand slam in the fifth inning Sunday of Low-A Great Lakes' 7-4 win over Bowling Green. As part of the team's promotional Grand Slam Inning, Outman's 12th homer of the season saw Loons fan Lori Ford win $5,000, the first time the prize has ever been awarded since the contest began in 2013.