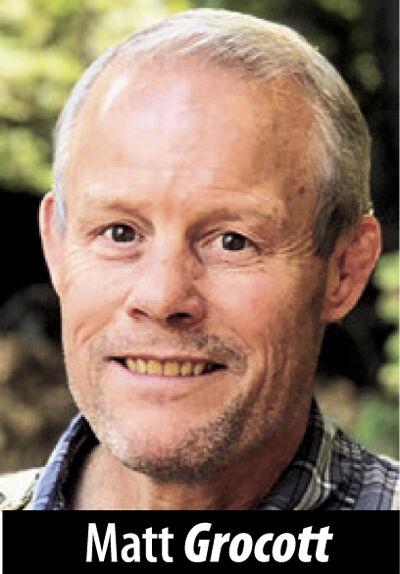 Have you ever had the feeling where two weeks felt like it was instead two months? That has been my experience since writing my last column. The cause has been all the things that needed doing before our son, Daniel, shipped off to boot camp. As I write, my wife and I are in a hotel room. We are staying in the place he will depart from in the morning. We came to have our last dinner with him before he goes away for 13 weeks.
With his departure being imminent, paying attention to what was going on with the rest of the world was the least of our concerns. Rather, along with helping Daniel with his tasks, we have been learning as much as we could about the Marine Corps, its history, its traditions and most importantly, a glimpse of what Daniel would experience once he arrived at boot camp. It has been illuminating. 
One interesting fact I learned is when the Marine Corps was created. It was before the birth of our nation. On Nov. 10, 1775, the Continental Congress passed a resolution, drafted by John Adams, which authorized the formation of two Marine battalions. Their first commanding officer was Capt. Samuel Nicholas. 
Of the two young men who joined along with Daniel from the same high school, each joined to do different jobs. One will train to be on a team that dismantles and disarms bombs. Another will train for the infantry. Daniel is joining to be an aeronautics mechanic. Regardless, the first and foremost job of every Marine is to be a rifleman and, as such, all recruits go through two weeks of intense training on the rifle range. In fact, it isn't until after boot camp that they enter into their specific job training.
Originally, Daniel was to ship out in early November but he requested to go earlier to be with the guys from his high school and another from a neighboring school. The latter is a Filipino kid like Daniel and they are going to be "battle buddies." I had never heard the term "battle buddy" before, but as a wrestling coach, I found the concept intriguing. The idea is for them to encourage each other but also, if one of them screws up, to face the consequences together. It is meant to encourage top performance, right behavior and camaraderie.
The Marines have two locations for boot camp. One is on the East Coast in South Carolina and the other is here on West Coast in Southern California. In the east, the base is the Marine Corps Recruit Depot Parris Island. The base on the West Coast, where Daniel and his buddies are headed, is MCRD San Diego.
The Marines have a motto: "The Few, the Proud, the Marines." There are a number of reasons for it. 
Indeed, the Marines are the smallest of the armed services. They were designed from the start to be an efficient, quickly mobilized, elite fighting force. Their job is to be the spearhead of any fight, to get to the battle first, ready to fight and, if necessary, ready to kill. However, as professional warriors, their ethic is to kill only if necessary — never for revenge.
To accomplish their mission, Marines are trained to do what does not come naturally. That is, they are trained to run to the sound of the gun. This is a tradition they are known for and it is why they are the most feared among all fighting forces. 
More than any other, the Marines basic training is the longest and toughest. Their mission at boot camp is to reduce the individual to nothing and then build them back up into a Marine. Through the crucible process, the individual is downplayed. It is the group and working together as a team that is emphasized. The result is an outfit which is bonded together as a brotherhood and cares for one another. Inherent with the bond is the ethic of "no soldier left behind." 
The core values of the Marines are summed up in three words: Honor, Courage and Commitment. Lastly is another of its mottos: Semper Fidelis, meaning "Always Faithful."
The previous three columns I wrote were about my two sons and this one touches again on our youngest. But more so, it is meant to tell about the Marines. And though focused on the Marines, here in the hotel tonight we have met young men and women who tomorrow morning are shipping out as well to Army, Navy and Air Force boot camps. Keep in mind, our armed forces are an all-volunteer force. May we be grateful for their service and sacrifice and may we be always faithful to them as they are to us.
A former member of the San Carlos City Council and mayor, Matt Grocott has been involved in political policy on the Peninsula for 17 years. He can be reached by email at mattgrocott@comcast.net.