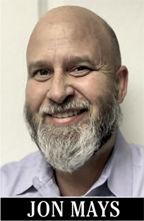 I recognize we are in the midst of a health emergency caused by a global pandemic and that our typical day-to-day rules may not apply.
Yet hearing the president blame a social media company for allowing points of view that do not adhere to the administration's official stance is certainly chilling. I also recognize President Biden backtracked a bit and is now suggesting it's not Facebook that is "killing people" but rather certain users are.
Still, a free flow of ideas is paramount here in the United States and it should not be up to the government to decide what should be allowed or not allowed in public exchanges of ideas. It has been one of the dangers of the pandemic in that, in the name of public health, certain viewpoints are discouraged and downright eliminated. Right now, much of the talk being squelched already even without the Biden administration's influence is on vaccines. One might think the public's health is more important right now than allowing free speech because of our emergency. This is the conflict. Our society's number one priority is eliminating the pandemic and vaccines are offering our best chance. While there is a big jump between eliminating nutty conspiracies that lead people not to get vaccinated and a complete totalitarian state, there should always be cause for concern when the government gets into what can and can't be said. It certainly should not be fact checking every source, neither could it possibly. And it shouldn't be trying to influence what a private business allows when it comes to the flow of information. That's the reason for the First Amendment to our Constitution and it's also important to note that, while you might agree with this administration, it could easily go the other way with a different administration.
I am of the opinion that Facebook and other social media companies are overall bad for our society in how they restrict and manage the flow of information. That accelerated when they began exercising editorial judgment without taking responsibility for it. Too many people are misinformed or underinformed because of these companies' algorithms. But I also believe they are private businesses that can decide for themselves what to allow without government pressure. It is also important to note these businesses are nascent despite their ubiquity and the social media sphere will find some equilibrium in time. Government can get involved with that, but in a way that adheres to the precedent of eliminating monopolies and not shaping content.
So we're wearing masks again, eh? This past month of freedom was certainly fleeting. From my understanding, wearing a mask protects others from you in case you have coronavirus and could also offer you some protection from others who have it. But so does the vaccine. The one I got is supposed to be about 95% effective. And the Centers for Disease Control says vaccinated people don't have to wear masks indoors or outdoors yet our local health officials are now requesting we do it anyway, at least in indoor public settings.
The idea as I understand it is we are wearing masks again because some who aren't vaccinated were using the previous new rules to not wear masks, and who probably will resist wearing them even now as 89.1% of the local population has completed the vaccination series. And our case counts and hospitalizations here are still pretty low. So the vaccinated wear masks for no reason to protect those who don't want to get vaccinated? It doesn't seem to make much sense, but I'm no expert, just a humble observer. But I'll do it and so should you.
The 2003 California recall may have had a Hollywood ending with the election of Arnold Schwarzenegger as governor but this 2021 sequel should never have been made. While Schwarzenegger's tenure as governor gave us "The Hangover," this one is more like its awful sequels.
The main push for the recall is Gov. Gavin Newsom's mandates over COVID, which were painful and weird, but seemingly effective overall. You can't really blame the guy for COVID like you could blame Gray Davis for rolling blackouts and the tripling of the DMV tax.
What this recall is missing is a breakout star. There's no one on the recall list that is rising to the top and Newsom is tacking moderate while desperately trying to get the state back to normal. He's even doling out cash.
My money is on Newsom making it through the recall as long as the state COVID mandates and fire season stay tame and the power stays on. After all, he's doing a fairly decent job. Let's see what he can do in a normal setting, or at least more normal.
Jon Mays is the editor in chief of the Daily Journal. He can be reached at jon@smdailyjournal.com. Follow Jon on Twitter @jonmays.