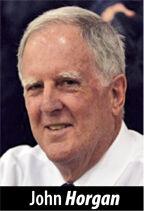 OK. We understand. You can't get enough of a good thing — like last week's prize-winning epic involving some of the wilder and weirder events and interludes from 2021. So we aim to please as 2022 heaves into view. We've got even more of this stuff that's guaranteed to titillate and amuse even the die-hard grouches out there. Let the good times roll. Check 'em out:
Keeping things clean and in the dark: The bureaucrats, energy experts and policy wonks who control the state's power supply continued to press for an eventual all-electric world, regardless of certain obvious realities.
They boasted about their moves toward more and more "clean" energy — with one notable caveat. They urged power customers to reduce their electrical use between the critical hours of 4-9 p.m.
Why? Because "clean" energy sources like wind and solar aren't always available at that time. Welcome to a return to the quasi-Dark Ages. Someone, please pass the charcoal and a slate.
Maybe Mr. Ed could have helped: You've probably seen or heard the word "NIMBY" or "Not in My Backyard." It's typically a term of derision targeting people who don't want intrusive development defiling their neighborhood.
But how about "NIMC" for "Not in My Corral." That phrase could apply to a horse named Bumpy whose outdoor living arrangements on Stanford University land could be negatively affected by flag-topped poles indicating the height of nearby future construction.
That was part of published testimony at a Portola Valley Planning Commission meeting. Bumpy, however, was not quoted directly.
Three strikes (or belches) and you're out: A creative minor league baseball team in Ohio promoted what was called "Wellness Night." The summertime event was sponsored by a nearby medical group. A key inducement to attend the contest: Hot dogs and beer (two staples of a well-rounded diet) for a buck apiece. Nothing like drumming up new business for the docs right there in the old ballyard. Yippee.
You can blame the guys for climate change: A university study revealed that, lo and behold, men produce more greenhouse gases than women. So, it's now obvious that males are more responsible for climate change than their female counterparts. Why is that not a surprise? Just consider the gender gap when it comes to the consumption of hot dogs and beer at that Ohio facility.
Time to mind your high-tech Ps and Qs: Never let it be said that Bay Area tech companies aren't interested in every possible nuance of human behavior, especially anything that might smack of perceived flaws or failings. A cutting-edge San Francisco firm has created the following job title for one of its executives: senior behavioral engineer of Trust, Safety and Abuse. Better put on a diverse happy face or confront the consequences, sonny.
This frazzled fellow did at least one thing right: A confused man, stark naked, was found wandering in a Redwood City hospital parking lot. Police were called. The fellow was taken into custody without much resistance. There was one bit of good news: The guy was wearing a protective anti-COVID mask. Hello, Dr. Fauci.
Hey, buster, take off those high heels now: Chinese authorities announced a new rule that prohibits so-called "sissy men" from appearing on TV. The reported aim was a fervent desire to maintain the nation's purportedly manly culture. It was not clear if the Beijing chapter of the Sisters of Perpetual Indulgence had been consulted in this weighty cultural matter.
Baked beans apparently can be a killer: The San Francisco Chronicle's online obituaries, on certain rare occasions, reveal a precious gem too special and unusual to ignore. In early October, one such jewel appeared, albeit for fewer than 48 hours as editors took their time to become aware of its presence. A "Beanie Greenbeanwood" (which may have been a cat) was reported to have perished due to a "legume addiction."
Just look the other way on this one: Still on the subject of potential methane issues, attendees at November's climate summit in Scotland seemed to forget about their much-heralded environmental calling as hundreds of them arrived for meetings via trains, vans, boats and private jets (an estimated 400 of them). There was no published estimate on how much of that contributed to global warming.