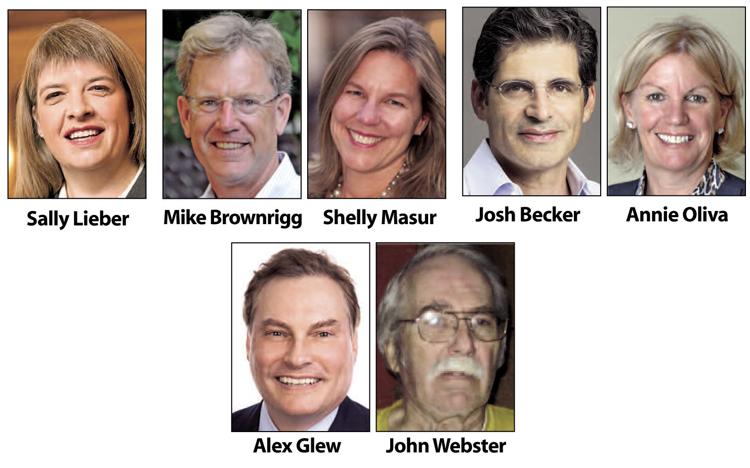 Campaigning to fill the seat soon vacated by state Sen. Jerry Hill, the seven candidates racing to shape the Peninsula's evolution shared varying positions on issues of utmost regional importance — housing and transportation.
Five Democrats, one Republican and one Libertarian are running in the March election for 13th Senate District seat left by Hill due to term limits: Former assemblywoman Sally Lieber; Burlingame Councilman Mike Brownrigg; Redwood City Vice Mayor Shelly Masur; nonprofit director Josh Becker; Millbrae Councilwoman Annie Oliva; Republican Alex Glew, an engineer who runs his own firm; and Libertarian John Webster.
In a series of endorsement interviews with the Daily Journal, each candidate detailed their platforms on a variety of issues critical to the district spanning from Sunnyvale through a majority of San Mateo County. Our first article will address candidates' plans for unclogging traffic gridlock and combating the state's housing crisis, while a subsequent article will touch on climate change, education and other regional concerns.
The interviews were hosted just as the state Legislature sealed the fate of Senate Bill 50, the divisive housing development from San Francisco lawmaker Scott Wiener. Acknowledging the failed legislation proposal to streamline dense transit-oriented development sucked much of the air out of the room when discussing housing policy, Masur was the only candidate who supported the initiative.
"Housing is a basic right people have, and it is on all of us to figure our how we can address the need," said Masur. She said she supported the proposal largely due the amendments offered by Wiener, which she said came at the request of her and others seeking compromises.
The flexibility granted in the proposed changes to the legislation designed to address concerns of limited local control resonated with Masur, who also lauded the diplomacy employed to mold the proposal.
To that end, she said she worked with Wiener from her position in Redwood City as she would in Sacramento to shape legislation in a fashion most responsive to the needs of her community.
She did not consider the proposal a panacea though, and said housing issues should be addressed through a variety of other efforts as well. Preferring to incentivize development, Masur advocated for partnerships between local and state governments to address affordability and pointed to legislation seeking to re-establish redevelopment agencies as a potential vehicle for achieving such a goal.
Other candidates were far more critical of Wiener's proposed legislation though.
"Bad policy, bad politics," said Brownrigg, who criticized the proposal as insensitive to the unique needs of California's many diverse communities.
Rather than pursue a one-size-fits-all approach, Brownrigg pointed to local zoning amendments such as loosened development policies established under Burlingame's new general plan as a model for responsible growth.
To reach the goals allowed through plans making way for more housing, Brownrigg too favored collaboration — whether between state and local governments or nonprofits and private developers.
Beyond also backing plans to resurrect redevelopment agencies, Brownrigg envisioned creating a state investment pool which could be drawn from to preserve affordable housing opportunities and stem displacement.
He also proposed empowering nonprofit organizations to purchase available residential developments by streamlining an otherwise cumbersome process which can limit access to rare affordable housing opportunities.
"We need to cut red tape to help people create solutions," he said.
Similarly, Becker too called on Sacramento to offer greater financial aid to local jurisdictions seeking additional assistance in the fight for affordability.
"Let's see the state be a friend to cities," said Becker, who expressed confidence in the interest of local governments to allow more housing development if offered the right incentive packages.
Becker said he favored bringing back redevelopment agencies as well as offering sustainable tax credit programs as a means of funding the partnership between Sacramento and city hall.
He also called for reconsideration of a state budget mechanism pulling millions of dollars away from county offices of education, which otherwise could be used to stimulate teacher housing developments.
In all, he favored any injection of financing which would encourage cities to facilitate housing development while also offsetting potential hurdles which can stall projects.
"We need a mass infusion of capital," he said.
Glew, meanwhile, said the state's housing affordability problem is a byproduct of a dysfunctional state government — one he hopes to fix through a more responsible approach to regional planning.
Blaming selfish local officials who approved unrestrained job growth in the name of economic stimulation and unaccountable state lawmakers, Glew said he favored unsticking the process gummed by balkanized interests.
Broader planning strategy accounting for housing as well as surrounding infrastructure issues would go far to solving the affordability crisis in a smoother fashion, he said.
"There needs to be a regional plan," he said.
For his part, Webster said he discouraged government intervention in private enterprise and suggested an unrestrained market would be a suitable goal post for policy making.
Lieber though lauded the state's effort to combat the housing crisis through legislation. And while she was not surprised SB 50 failed, she said it provided useful cover for other bills she supported such as rent control, Section 8 voucher mandates and other streamlined development initiatives.
"All the heat and light emanating from SB 50 helped some good bills get through," she said.
Looking ahead, Lieber said if elected she would lean on her long history as an accomplished lawmaker to work toward developing more housing — specifically affordable units.
Alternatively, Oliva said she felt cities have been sufficiently empowered to address the state's housing problem.
"I think the local jurisdictions have the capability to provide housing where it needs to be in terms of where zoning goes," said Oliva, who advocated for transit-oriented development while protecting neighborhoods comprised of single-family homes.
Also, encouraging development of accessory-dwelling units could be a way to bump the amount of affordable homes in a community without greatly diminishing the local quality of life, she said.
But ultimately, she said the housing issue is intrinsically linked to transportation and one solution cannot be provided without addressing the other.
"We cannot talk about the housing crisis unless we talk about transportation," said Oliva.
Deeply familiar with the region's largest intermodal hub in Millbrae, Oliva said she would champion efforts to make public transportation more efficient with hopes of unsticking the congestion on local thoroughfares.
Oliva lauded efforts to consolidate and synchronize regional transportation agencies with hopes of coordinating schedules and fares, but would not advocate for additional taxes to finance regional initiatives.
"I'm probably not one that will support any specific taxes toward transportation," said Oliva, who instead advocated for better budgeting as a means of financing the necessary improvements.
Becker, too, said improved collaboration between transit agencies would be helpful getting the Peninsula moving, but differed from Oliva on the need for financing.
An advocate for a corporate head tax, Becker said he would support seeking fees from major Peninsula employers to raise money for investments in transportation initiatives.
"I do think those companies should be asked to pay," he said, regarding the contributions of large tech companies and other corporations headquartered throughout San Mateo and Santa Clara counties.
He also cited rehabilitating the Dumbarton rail project as a potential means of reducing congestion, and favored the Metropolitan Transportation Agency establishing it as a priority.
Brownrigg agreed significant investment is necessary to ease transportation problems. He said money from the plan to finance high-speed rail could be diverted to pay for grade separation projects locally. He also favored building a new BART tunnel.
In all, he anticipated between $50 billion to $100 billion is needed to solve the Bay Area's transportation issues. And while skeptical that the potential regional sales tax may be the right mechanism, Brownrigg left no doubt that substantial investment is required.
"There is a lot more we can do to make this much better," he said.
Masur, too, favored investment in public transportation as a means of limiting dependency on personal cars.
"I'm in favor of solutions that will take cars off the road," she said, noting enhanced ferry service could be an opportunity, nodding to the work Redwood City has done recently to consider water transportation.
And while also favoring building more Bay rail crossings, Masur stopped short of identifying her preferred means of financing the projects.
"This is the bigger challenge of all the things we need in public service," she said. "How do we pay for it? There's all kinds of different proposals."
Lieber also expressed uncertainty over whether tax measures would be sufficient to finance transportation improvements, noting that sales taxes are often regressive and hit poorer families the hardest.
And while open to the idea of a business tax, Lieber said reconfiguring the governance structure for transportation agencies could go further to making the systems more efficient and friendly to riders. To that end, she said electing officials to seats on the board of transportation agencies could enhance accountability and assure local interests are better served.
More broadly though, she said the status quo is unsustainable.
"We don't have the transit that we need and deserve in the Bay Area," she said.
For Webster, he advocated for greater freedom allowing employees to work from home more often, keeping fewer cars off the road. And he suggested privatization of BART would help the rail agency run more efficiently.
Meanwhile, Glew said he wanted more infrastructure investment which will lead to additional lanes and trains serving those commuting to the Peninsula from outlying areas which may be more affordable
Deregulation of public transportation lines and establishment of toll lanes could be two means of improving a system which he said is in a current state of disrepair.
Calling management of the public transportation network reckless and irresponsible, Glew called for improvements to accommodate an affluent and influential segment of the state.
"We need a real transit system," he said.