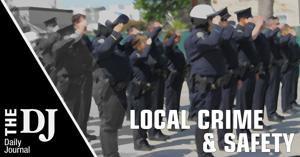 San Mateo police are on the lookout for someone who wrote racist messages directed against China along De Anza Boulevard near the Crystal Springs Shopping Center and in the Laurelwood neighborhood this week.
This follows similar granitite found in November of last year in the same location. No suspects were identified and police did not have surveillance footage of the vandalism. At the time, San Mateo police spokesman Officer Michael Haobsh described it as hate speech, but said it does not qualify as a hate crime. The recent messages were on utility boxes and poles. Haobsh said officers are canvassing the area to locate all the graffiti and are increasing patrols. He recommends people with street-facing security cameras in the area reach out to police.
Similar graffiti targeting "nerds" has been seen there and in downtown San Mateo for several years.
The San Mateo Police Department is actively working this investigation. Anyone with information is encouraged to contact police dispatch at (650) 522-7700. Anonymous tips can be submitted to http://tinyurl.com/SMPDTips or by calling (650) 522-7676.