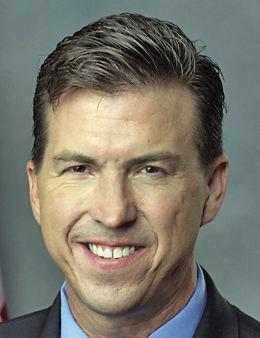 In an effort to underscore the need for actions to stem the effects of climate change and invite local jurisdictions and agencies to join together to address the issue, officials Tuesday voted unanimously to declare a state of a climate emergency in San Mateo County.
Out of concern about the effects of increasing greenhouse gas emissions on global temperatures and the corresponding impact those trends will have on sea levels, county officials have in recent years taken steps to study the effects climate change could have on children, older adults, those with pre-existing conditions and mental health conditions, low-income residents and communities of color, according to a staff report.
In recent years, county officials have launched Peninsula Clean Energy, the county's provider of electricity drawn from renewable sources that do not generate greenhouse gases, and facilitated a regional program bringing the county together with its 20 cities to design measures to reduce greenhouse gas emissions. The county has also taken steps to expand the San Mateo County Flood Control District's responsibilities to address sea level rise through a proposal to form the San Mateo County Flood and Sea Level Rise Resiliency Agency, which is aimed at facilitating coordination between jurisdictions as they set their sights on a new set of challenges for water infrastructure projects, according to the report.
State legislation authored by Assemblyman Kevin Mullin, D-South San Francisco, and needed to change the flood district's governance to a seven-member board consisting of five city officials and two county supervisors was signed by Gov. Gavin Newsom last week, creating what some describe as the first county-level agency in the state to directly tackle sea level rise.
But despite these and other national and international efforts, officials remain concerned that measures aimed at addressing climate change may fall short of stemming the projected harm to people and places. Those concerns spurred board President Carole Groom and Supervisor Dave Pine to call for accelerated action and collaboration among local agencies in addressing climate change at the Board of Supervisors' meeting Tuesday.
Pine expressed gratitude to those who urged supervisors to join the more than 1,000 jurisdictions across the world — including San Francisco, Santa Clara County and Bay Area cities such as Berkeley and Oakland — in making similar commitments to planning for climate change.
"We're going to need all your help and hundreds more as we push forward in dealing with this," he said, according to a video of the meeting.
As a member of the San Mateo chapter of the Citizens' Climate Lobby and a longtime San Mateo County resident, Kathleen Goforth advocated for officials to do as much as they can to stem the health and safety implications of climate change, which she noted have already had an effect on San Mateo County residents. Goforth acknowledged major wildfire disasters across California in recent years have been linked to climate change and have also become part of a new normal for the state's residents, noting sea level rise and poor air quality are also changes residents will have to plan for in the coming years.
"We all recognize fires as an emergency situation and when a fire breaks out we respond accordingly," she said. "We must recognize and address the climate crisis with the same sense of urgency and sustained commitment."
Burlingame Councilman Michael Brownrigg also voiced support for the proposed resolution and said he was proud of the county's leadership in taking steps to stem the effects of climate change. Brownrigg noted one-third of Burlingame's revenue is generated by companies in close proximity to the San Francisco Bay, making them vulnerable to the effects of sea level rise. He added several other Peninsula and coastal cities face similar challenges, and thanked supervisors for bringing the issue front and center.
Finalized in 2018, the San Mateo County Sea Level Rise Vulnerability Assessment identified infrastructure, natural habitats and housing that could be affected by erosion and flooding associated with rising seas. The study sought to map the oceanside and Bayside assets at risk, including wetlands and beaches, hospitals and wastewater treatment plants as well as critical transportation infrastructure such as Bay Area Rapid Transit, Highway 101 and Highway 1. By considering the effect of current weather patterns such as heavy rain and high tides, the report also studied parcels exposed to present-day flooding, which are valued at $1 billion, and those exposed to erosion and flooding in the next 50 to 100 years, estimated to be worth more than $39 billion.
Because many flood mitigation projects must now account for high tides, intense storms and sea level rise, county and city officials have been exploring countywide coordination of water projects through an ad-hoc water committee formed by the City/County Association of Governments. Given the cost of planning for high tides, intense storms and sea level rise, collaboration between jurisdictions can be an attractive feature of applications for state and federal funding, explained county Public Works Director Jim Porter previously.
Now that the San Mateo County Flood and Sea Level Rise Resiliency Agency has been formed, the agency is set to manage flood protection services, study the coastline to prioritize erosion mitigation measures and establish a presence in Washington, D.C., so the agency can be effective in advocating for federal funding.
As executive director of the nonprofit Menlo Spark, Diane Bailey underscored the evidence showing climate change is no longer an abstract concept and is being felt and seen by communities across the globe. She also acknowledged the growing number of youth calling for accelerated climate change action, and urged supervisors to build upon expanding efforts to highlight the implications of climate change and calling for action to address it.
"The most important voice in all of this is really the youth voice and they have been rising up," she said. "The declaration of a climate emergency in San Mateo County is really the right thing to do at the right time."
Acknowledging there are many, including officials in the nation's capital, who don't believe climate change is happening, Groom encouraged everyone to continue to take bold steps toward addressing the issue.
"I hope that we all continue this strong work," she said. "We just have to be strong and vigilant and keep up this fight."