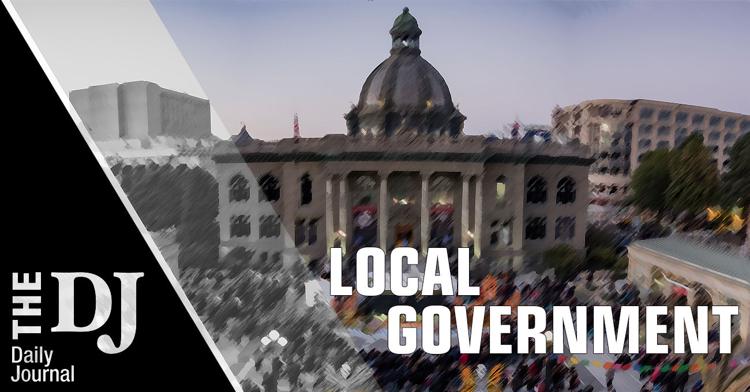 Yearslong negotiations between a downtown San Carlos property owner and city officials may accelerate after officials discussed taking steps toward acquiring a six-unit building by eminent domain Monday as part of an effort to boost the city's affordable housing stock.
Situated next to an affordable housing development owned and operated by the nonprofit HIP Housing, the building at 1232 Cherry St. that Louis Vella and his wife have owned for more than 25 years has long been pegged as a site where more affordable units could be built through a joint venture between the nonprofit and the city, explained Community Development Director Al Savay.
A short walk from public transit and a variety of services, the two parcels, if combined into one larger parcel of about 11,000 square feet, could provide some 25 units on a downtown lot, according to financial analyses and project studies Savay said city officials and the nonprofit conducted. With the goal of acquiring the property and boosting the city's housing stock near the city's downtown and public transit, city officials have been negotiating with Vella since 2014 to acquire the property, said Savay.
"What we know from development, particularly small affordable housing projects like this, is you need a critical mass of land area to make it financially feasible," he said, according to a video of the meeting.
But because HIP Housing's affordable housing restrictive covenant is set to expire in 2020, city officials are hoping the parties can reach an agreement in the coming months. Savay said officials in May sent a formal government code offer to Vella based on the property's appraised value, which was appraised in March and valued at $2.76 million, according to a staff report.
Vella said he received interest from the city in purchasing the property more than a year ago. He said he was initially not interested in selling the property to anyone since he had been hoping income from the building could continue supporting his family as he and his wife help raise their grandchildren in the area. But the nearby construction of the 109-unit Wheeler Plaza development taking shape downtown drove tenants out of the building, which he said left it vacant and his family with its expenses.
Vella said he asked city officials to keep him apprised of updates 15 months ago, but hadn't heard anything for months until he was notified by Savay in mid-June of the hearing to discuss the acquisition of his property by eminent domain. He said he was happy to partner with the city to address its need for affordable housing, but hoped officials could delay taking one of the first steps in eminent domain proceedings until after the summer months so he could hire a professional to help him through the process.
"We were counting on our property on Cherry Street to provide that cushion, that safety nest, but, unfortunately, that dream is quickly fading away in front of our eyes," he said.
In response to Councilwoman Sara McDowell's question about how a delay could affect negotiations between Vella and the city, Savay said negotiations between the two parties could continue after officials adopt a necessity to acquire the property by eminent domain, the decision before the City Council Monday. Ben Stock, special legal counsel for the city, said negotiations can also continue if officials don't start eminent domain proceedings but noted officials looked to the filing of a complaint as necessary so officials can take advantage of the HIP Housing property adjacent to Vella's property before its affordable housing restrictive covenant expires.
Savay explained once the covenant expires in 2020 the property owner could sell it at market rate and use the funds to build housing units elsewhere, which he said is one of the concerns officials had about letting the covenant expire. He added the city and Vella have been negotiating in good faith for years but haven't been able to come to terms, and hoped the legal proceedings could help bring the negotiations to a conclusion.
Councilman Adam Rak asked if the city's complaint can be withdrawn if the city and Vella are able to come to an agreement, and Stock said if a settlement is reached in the next 60 days to 90 days after officials' decision to start eminent domain proceedings, they can dismiss the complaint and allow the sale to go through escrow. Stock said it can take a year to 18 months to get a final judgment on the eminent domain proceedings, which come up against the expiration of the covenant on HIP Housing's property.
Rak suggested officials could consider asking City Attorney Greg Rubens to delay beginning the eminent domain proceedings for another 45 days to give Vella and the city a little more time to reach an agreement.
"I'd like to be flexible to work with him but have some sort of time constraint," he said.
Councilmembers voted unanimously to authorize Rubens to begin taking those steps after 45 days. Though Vice Mayor Ron Collins acknowledged Vella's concerns, he said the project has been a long time in coming and marks a rare opportunity for the city to address its lack of affordable housing.
"There aren't many opportunities out there," he said. "In fact, I would suggest there are zero other opportunities for any other property quite like this."