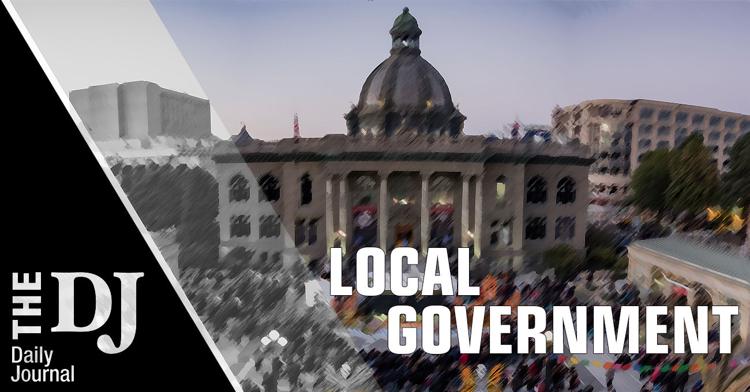 Redwood City officials are weighing regulations on single-family home size as well as the height of accessory dwelling units in response to deep concerns over a growing number of projects many feel are excessive and incompatible with their surroundings.  
At a meeting Tuesday, the Planning Commission discussed a proposed interim floor area ratio ordinance and various changes to the city's rules for accessory dwelling units, also known as in-law units. 
FAR is the ratio between a building's total floor area and the size of the lot on which the building stands. For example, a 2,500-square-foot home on a 5,000-square-foot lot has a FAR of 0.50.
A majority of commissioners expressed support for a FAR limit between .40 to .45 as well as a 17-foot height cap for ADUs, among other regulations, but ultimately held off on voting for a recommendation to the City Council, which has the ultimate authority over such proposals. The commission will likely vote on a recommendation in June or July and in the meantime staff will compile additional data to inform that decision.
Between January of 2017 and December of 2018, 98 architectural permits were processed in Redwood City and 30 of those homes had FARs of .50 or higher, according to a staff report. Nine of those projects were on lots less than 5,000 square feet and almost all of the homes with FARs above .50 were approved without neighborhood concerns or appeals, according to the report.
Average home size of Redwood City projects in 2017 was 3,204 square feet while 2018 saw an average home size of 2,955 square feet.
The above FAR calculations include aspects of a residential structure that contribute to overall massing when viewed from the street. So attached garages and the first and second floors of a home were counted while detached structures and basements were excluded from the calculation.
Associate Planner William Chui noted that FAR does not tell the whole picture when it comes to evaluating building size as it's dependent on lot size, and mentioned a home with a FAR of 72% — the highest of any Redwood City project in the past two years — that is not actually as big as one might assume. That home totaled 1,800 square feet and its FAR was so high because it sits on a 2,200-square-foot lot.
For some residents, especially those in the Mt. Carmel neighborhood, the data confirms a troubling trend of single-family homes being demolished and replaced by oversized ones.
"The data only reinforces what many of us see happening to our neighborhoods with our very own eyes: profit-driven developers bulldozing what has historically been starter homes or that missing middle and replacing them with enormous home with no regard for the neighborhood or neighbors," said longtime Mt. Carmel resident Kris Johnson. He claimed that since 2017, Redwood City has seen 11 homes with an FAR greater than .60 and two homes with an FAR over .70.
Redwood City does not currently have an FAR limit and instead relies on height, setbacks and lot coverage — which is the total area of the lot covered by the building — to regulate building plans. While it's common for nearby cities to evaluate FAR for single-family homes, every city approaches the number differently, Chui said.
One option is to have a "hard cap" in which no project proposal can exceed a certain FAR while another approach is to adopt a threshold or "soft cap" in which two-story projects over a certain FAR are subject to Planning Commission review. Staff recommended the threshold approach, but most commissioners as well as the residents who spoke during public comment were interested in a hard cap FAR between .40 and .45 with a sliding scale based on lot area.  
Commissioner Nancy Radcliffe said the hard cap provides a sense of certainty in the application process.
"Having certainty is so important in all getting along and knowing what we're going to do," she said. "We gave that certainty when we did the downtown precise plan where we have over 500 must-dos and another 500 that would be great for projects to qualify. This is the same type of thing we need in our residential areas is giving everyone certainty of what is acceptable and what is not so I'd also like to do a hard cap." 
Commissioners seemed comfortable with the proposed exceptions where FAR shouldn't apply, including lots less than 5,000 square feet, square footage of basements and detached structures, single-story additions and small second-story additions of 100 square feet or less, according to the report. 
Changes to the city's regulations for accessory dwelling units are being explored because of concerns excessively tall ADUs and the associated privacy impacts.
Associate Planner Apollo Rojas said the city has processed dozens of ADU applications in recent years, including 14 two-story ones above detached garages. Those types of ADUs, under the current rules, can be as tall as 28 feet, which is the same for single-family homes. Staff proposed a 24-foot cap, but most commissioners expressed interest in going as low as 17 feet — a cap that has been adopted in neighboring cities.
"To the extent that we can dictate the height, the lower the number is what I'd be after," said Chair Kevin Bondonno.
Other rules for ADUs that the commission appears interested in include restricting exterior stairs, balconies and roof decks facing immediately adjacent neighbors, requiring opaque windows when facing immediately adjacent neighbors and prohibiting roof decks above ADUs. 
Some changes were also proposed to incentivize the construction of one-story ADUs, including reducing rear setbacks from 10 feet to 6 feet, exempting ADUs from a 50% rear lot coverage requirement to increase buildable footprint in the back yard and increasing the maximum size of ADUs adhering to Americans with Disabilities Act requirements from 800 square feet to 1,000 square feet.