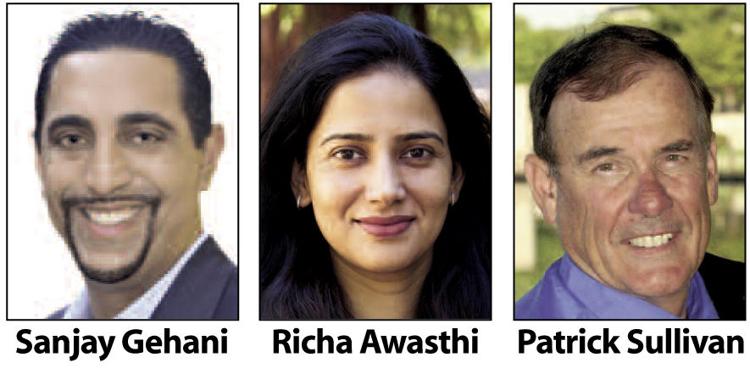 Sanjay Gehani has clinched a seat on the Foster City Council and trailing him are Richa Awasthi and Patrick Sullivan, who were nearly tied late last night for the second open seat.
There are two open seats as incumbents Charlie Bronitsky and Gary Pollard did not run for re-election. Gehani leads with 24.9 percent of the vote, Awasthi received 19.5 percent of the vote and 1,493 total votes while Sullivan got 19.4 percent of the vote and 1,484 total votes. Preliminary results from Election Day will be updated by county officials again Thursday, Nov. 8, as well as Tuesday, Nov. 13, and again Friday, Nov. 16.
"It's still early, but it looks good," Gehani said. "I want to thank everyone for their focus on Foster City, their commitment to our community and I'm happy to contribute my time and energy to the community."
Sullivan is confident in his chances of winning and said he looks forward to working with Gehani, who he described as a good addition to the council. Awasthi said she was optimistic but carefully following the results.
Voters also approved a hotel tax hike from 9.5 percent to 12 percent in phases. The measure passed with 73 percent of the vote.
Candidates Mark Farren, Deborah Martinez and Paul Williams appear to be out of the contest.
"I'm looking forward to doing what's best for our community and brining people together in a collaborative environment," Gehani said.