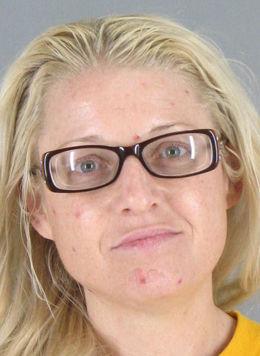 Two doctors were appointed Friday to review the competency to stand trial of a woman accused of burning roughly $20,000 worth of hay bales on two separate occasions in June and July, according to the San Mateo County District Attorney's Office.
El Granada resident Monica Louise Berlin, 39, is said to have offered bizarre explanations to firefighters responding to a blaze she allegedly set June 26 and a neighbor after she allegedly set fire to the same site in Half Moon Bay, according to prosecutors.
At around 9:20 p.m. June 26, Berlin allegedly set fire to 900 hay bales valued at roughly $10,800 in the vicinity of Seymour Street and state Highway 1. She allegedly photographed the fire, and apparently told firefighters responding to the blaze that it had something to do with the "zombie apocalypse," according to prosecutors.
A week later, she allegedly returned to the same property and burned a second pile of hay bales valued at an estimated $9,180 around 9:50 p.m. on July 3.
The following day, prosecutors say she told her neighbor she had done so to prevent a cult from committing a massacre.
On July 6, she fled from police attempting to stop her in the vicinity of State Route 92 and Cañada Road, leading law enforcement on a 100 mph chase that ended with her arrest by the California Highway Patrol in Atherton.
She's currently being held on $100,000 bail and will next appear in court Sept. 26 for receipt of doctors' receipts, according to prosecutors.