Zac Grotz knew he was going to be on the move when he got a call from his pitching coach last week.
The 26-year-old right-handed pitcher is certainly accustomed to changes of scenery. Since his senior year at Burlingame High School in 2011, Grotz would be displaced in each of the next eight seasons, including four different colleges and seven different professional organizations.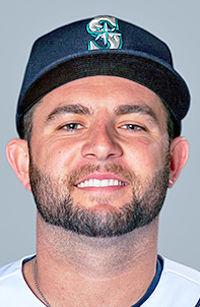 After landing in Double-A for the Seattle Mariners to start 2019, the highest level at which he'd ever played, Grotz put himself on the map with a 2.51 ERA in 26 appearances as a swingman at Double-A Arkansas. So, when his cellphone rang on July 31 at the MLB trade deadline, he thought it might be news he was getting traded.
Much to Grotz's surprise, he was wrong.
"The pitching coach was like, you're going to go meet up with the big league team in Arlington and you might pitch tonight," Grotz said. "So, yeah, I would say it was a surprise."
Yes, the news was Grotz was being promoted to the major league squad, with the Mariners finishing a three-game series last Wednesday at Globe Life Park, the home of the Texas Rangers.
Two days later, with the Mariners traveling to Houston, Grotz made his big league debut, pitching two innings of relief last Friday in Seattle's 10-2 loss to the Astros. The right-hander took over for former Giants reliever Cory Gearrin and worked two innings, allowing one run on one hit.
The Seattle Mariners clubhouse has become something of a Bay Area north this season. In addition to Gearrin, the former Giant, Seattle also has San Carlos native Braden Bishop on roster — though he has been on the disabled list since June 5 with a lacerated spleen — and a former Aragon High School star in San Mateo native Sam Tuivailala.
"Right when I got in the clubhouse, [Tuivailala] was smiling and gave me a big handshake and a hug and congratulations," Grotz said, "and quite honestly, it made it a lot easier."
"Easier" is a refreshing change for a player to whom nothing has come easy.
At Burlingame, Grotz wasn't much of a college recruit. He was familiar with prospect charisma, having pitched as a junior against Tuivailala — it was Grotz's best performance of 2010, a complete-game loss as Tuivailala recorded the game-winning hit and struck out 11 in a 1-0 Aragon victory — but he said he never gave much thought to what it would take to be one of those guys himself.
Then, after an uneventful freshman season at Cal State Monterey Bay in 2012, he transferred to the College of San Mateo. It was there he saw an uptick in velocity and made a leap in overall performance, tabbing a 7-3 record with a 2.24 ERA.
"The whole year I thought I was (going to get drafted), and I ended up not, but I fell off at the end of the year," Grotz said. "But, honestly, my head got a little too big. … I had never dealt with all that before."
Despite receiving plenty of interest at CSM in 2013, Grotz didn't get drafted. And little did he know his yearly carousel was just getting started.
After transferring to the Division I program at University of Tennessee in 2014, Grotz lasted one year before undergoing another change of scenery, transferring to the NAIA program at Embry-Riddle in Florida in 2015. After a stellar season at Embry-Riddle — posting an 8-2 record with a 0.70 ERA, two complete games and nine saves — he was drafted in the 28th round by the Houston Astros.
Surviving independent ball
After 19 professional appearances in the Astros' farm system, though, Grotz was given his release at season's end. The carousel continued, with his signing with the Washington Wild Things of the independent Frontier League to start 2016. Grotz admitted the carousel began to feel like the norm.
"Now, I don't know what it's like to stay in one area for too long," Grotz said.
Grotz was a force in the Frontier League, posting a 4-2 record with a 1.36 ERA in 29 games. He didn't last the year with the Wild Things, though, having his contract purchased by the Los Angeles Dodgers, with whom he was assigned to the Rookie-Class Ogden Raptors, recording an impressive 4-0 record in just five appearances.
Getting a second chance in affiliated pro ball, after being cut loose by the Astros, felt like vindication, Grotz said.
"That felt really good," Grotz said. "Then, sure enough, at the end of that season, I get a call the day after the season ends, even though I threw pretty well, saying I got released by the Dodgers."
The carousel continued. In 2017, Grotz pitched with the Bridgeport Bluefish of the independent Atlantic League. It's the only season since he debuted in pro ball in 2015 that he has spent the entire year with the same team. After that 2017 season, however, the Bluefish folded. He then switched Atlantic League teams, picking up with the York Revolution to start the 2018 season.
A third chance … and a fourth
His time at York saw his contract get purchased by yet another affiliated pro team, with the New York Mets plucking him and shipping him to Low-A Columbia. After 13 starts with a modest 3-7 record and a 4.61 ERA, he was released again, making him question his future in baseball.
"During that time, I was like, 'shoot, do I want to go back to indy ball or do I even want to play, because it's not like another team is going to sign me,'" Grotz said.
Another team did sign him, though. The Seattle Mariners came calling, much in part to the metrics of his specialty pitch, the split-finger fastball, Grotz said.
"I was like 'damn, I knew it was good, I didn't know it was that good,'" Grotz said. "The Mariners being able to give me that confidence … that's what helped me go off at the start of spring training, and the start of Double-A."
With the big league promotion, Grotz becomes the second Burlingame alumnus to reach Major League Baseball. The first was right-handed pitcher Scott Feldman, who played for six big league teams from 2005-17.
There are three other Burlingame alums currently playing in affiliated pro ball. Right-hander Vince Arobio — with whom Grotz worked out in the offseason — is at Double-A Birmingham for the Chicago White Sox; infielder Phil Caulfield is at Low-A Hagerstown for the Washington Nationals; and outfielder Jonathan Engelmann is at Low-A Lake County for Cleveland.