The Lady Dons were determined to go large or go home.
Well, they ain't going home, not after a 70-54 victory over No. 5-seed Leland-San Jose (8-2) in the Central Coast Section Division II girls' basketball tournament quarterfinals Tuesday night.
Despite leading by as much as 20 late in the third quarter, No. 4 Aragon (9-2) refused to slow down its up-tempo, frenetic style of play. But the payoff was the big momentum generated when junior guard Jordan Beaumont started splashing down with authority, drilling five 3s on the night en route to a game-high 24 points.
"I like letting them run," Aragon head coach Sam Manu said. "It's more fun to play that kind of basketball. And we've been working on it, it's taken us probably the whole season to feel comfortable. So, today they felt comfortable. They felt confident in their shot and we were able to get into a faster game and still not be in a hurry."
While the Dons shot just 35.9% from the field, they can afford to play fast and loose thanks to plenty of second chances. Senior center Lala Lautaimi has emerged as physical post player and Tuesday she used her 6-foot frame to earn a double-double with 18 points and 16 rebounds. Eight of her rebounds were offensive boards.
The Dons' only senior, Lautaimi filled up the stat sheet from the outset. It was a relief for Manu, who has waited for the three-year varsity player to put her stamp on the Aragon program, after playing a support role for the past two seasons.
"I think it came late to her … because she's always been carried," Manu said. "We've always had people in front of her. She's so humble, she's so deferring. But this year, we can't defer. There's nobody else. She's a senior. … So, it's taken her the whole season to say: 'OK, this is my team.'"
Banging around in the paint seems to bring out the best in Lautaimi, who had more rebounds Tuesday than the entire starting five of Leland. Aragon dominated the boards, outrebounding Leland 54-22.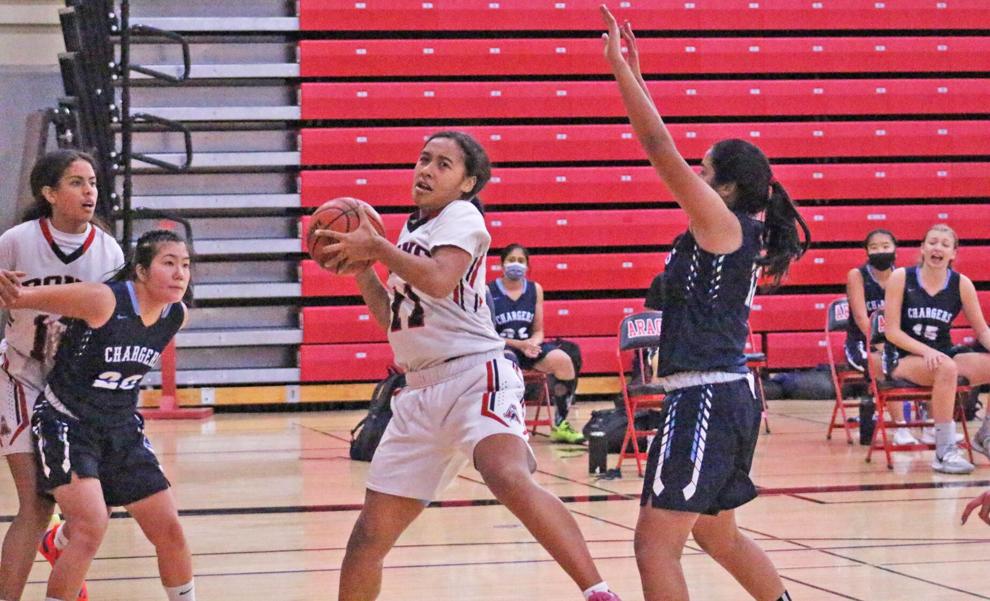 "It's always been with our program," Manu said. "We always try to be a good rebounding team. We really only have one big and that's Lala, and she came up big for us. It is her senior year, and she's got all the family and friends watching. She's been playing great, just rising to the occasion. … I'm really proud of her."
Not that Lautaimi always channels her beast mode on the boards.
"I think it depends on the defender," Lautaimi said. "Because this was the first game where [the defender] was really holding onto me, really defending me. So, I had to push myself."
The senior is something of a gentle giant, according to Manu. She's got the height, sure, but her slender frame gives her something of a surprising reach. And Manu said it has been a work in progress to toughen her up this season.
"It's been learned," Manu said. "We've had to beat her up a few times. She finally said: 'I'm tired of this. I'm going to beat up some people then.'"
That's where Beaumont's energy level comes into play, as the 5-4 guard brings plenty of charisma to the court. She has something of a Steph Curry-like energy that fills up the gym when she knocks down a 3. And when she gets going, she hits them in bunches.
"We expect it out of her," Manu said. "We give her the green light and she can do whatever she wants. … She's got such great confidence and it's starting to affect other players."
Leland played it close through the first quarter and overcame a 6-point deficit to tie it 14-14 on a baseline inbound play for Ellie Weigand to hit an eight-foot jumper. But Beaumont responded at the other end with a quick 3 to give Dons a 17-14 lead with 37 seconds to go in the opening quarter.
It sparked a 13-2 run for the Dons, who never trailed again in the contest.
"I think we did good," Lautaimi said of Aragon's shooting game. "If anything, if they miss, I've got them."
Sophomore forward Grace Nai was also a presence, totaling 13 points and five rebounds. She connected for three 3s, including her second one in the second quarter to push the lead to double digits at 31-21.
"Grace just lit it up for us today," Manu said. "That's something that people don't know. And she's been our best-kept secret. Well, she's not a secret anymore."
Beaumont blazed out of the halftime break to hit a pair of long perimeter 3s, setting the tone for a third quarter in which the Dons outscored Leland 21-9.
Saloni Baghri led all Leland scorers with 18 points, while Simran Baghri added 15.
Aragon now takes to the road for Thursday's semifinals, traveling to No. 1 Lynbrook for a 7 p.m. tip-off. Lynbrook took out No. 8 Hillsdale Tuesday with a 63-36 victory.
Woodside, the No. 7 seed in Division II, was also eliminated, 63-22, by No. 2 St. Francis.
In Division I, No. 3 Sequoia advanced to the semifinals with a 76-37 win over No. 6 Evergreen Valley and will next face No. 2 Silver Creek. In Division III, No. 5 El Camino moved into the semis with a 56-45 win over No. 4 Notre Dame-SJ. Up next is top-seeded Santa Cruz. In Division IV, No. 6 Terra Nova was eliminated in overtime by No. 3 King's Academy, 30-28.