When Ralph Ferrari wrapped up his senior year of basketball at Burlingame High School in February 2012, he was ready to give up the game. The dream, like a lot of other young players, was to play at the Division I level. When it became clear that was not possible, Ferrari wanted nothing more to do with the sport.
"I figured if I couldn't play anymore, I would just stay out (of the game)," Ferrari said.
That lasted, oh, about three months. Ferrari started coaching with his dad's AAU program and after some time working in the tech industry, Ferrari finally settled on a career path — that of college basketball coach.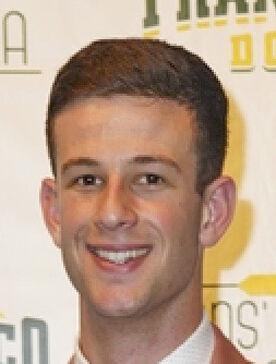 He's off to a good start as Ferrari is the video coordinator and director of scouting for head coach Todd Golden's staff at University of San Francisco.
"Just living out the dream," said Ferrari, 26.
Ferrari first hooked up with the USF program in January 2017, as he followed younger brother Frankie to the Hilltop. Frankie Ferrari, who is beginning his second season playing professionally in Spain, introduced Ralph to then-coach Kyle Smith and he came on a team manager — which is just a fancy term for that guy or gal who is willing to do anything and everything for the team.
"Going to practice every day, help rebound for the guys, help prepare for road trips," Ferrari said. "And whatever else the coaches need."
Sometimes, it meant wiping sweat off the floor or serving as the water guy. Ferrari was willing to do it all.
"The ultimate goal would be to be a Division I head coach. This is the necessary path for guys who didn't play in college. You have to start at the bottom and work your way up," Ferrari said. "It's hard to get in to and I'm very fortunate and blessed for the opportunities I've had."
Not everyone is willing to put in the work, however. Ferrari said the program will get hundreds of letters from people who want to get into college coaching. Ferrari said the season always starts with 10 to 15 people willing to work in support roles with the hope of eventually moving into a coaching position.
"By the end of the year, you have two or three who stuck it out," Ferrari said.
Ferrari really didn't have a choice when it came to staying in the game. Despite his efforts to leave basketball behind, his dad, Paul Ferrari, was having none of it. The owner/director of Lunardi's AAU program (previously known as Rip City), Paul put Ralph to work as a coach after high school graduation.
It was at that point, Ralph Ferrari reignited his passion for the sport.
"I took over a third grade-fourth grade combo team and kind of fell in love with it. That's when I wanted to become a coach," Ferrari said. "It was just fun to give to the community and teach the young kids how to play. My dad always instilled good values in us and preached how sports brings together a community."
Ferrari continued to coach youth teams as he went to school, first at College of San Mateo, where after a brief foray into kinesiology, decided to change his major to communications. His thought process was if the coaching thing didn't work out, he could maybe go into sports broadcasting.
His decision to make a legitimate attempt at a coaching career was solidified after he took a year off from school and worked in the tech field.
"I didn't like that," Ferrari said. "It was a big wake-up call."
So Ferrari dove head first into coaching. After a year as USF's team manager, Ferrari was officially hired as video coordinator by Smith prior to the start of the 2018 season. Ferrari didn't have a clear idea of what that entailed as the team did not have much of a video presence. Ferrari not only had to take a crash course in what a video coordinator does, but how to do it.
"I had to film practices and games and then they needed someone to download opponents' film. I had no previous experience," Ferrari said, before giving former assistant Mike Magpayo credit for helping him figure things out.
"I had no idea what I was doing," Ferrari continued. "I just kind of ran with it."
He did find a mentor, however, in Golden, who was an associate head coach on the 2018 staff. Ferrari said Golden took him under his wing and when Golden replaced Smith ahead of the 2019-20 season, he expanded Ferrari's role with the team, adding director of scouting to his responsibilities.
"I help [Golden and the coaching staff] prepare for opponents," Ferrari said. "Break down the five previous games, break down what they like to do on offense, on defense, what sets they like to run.
"I'm very fortunate [Golden] gave me that role. It's a big role and a lot of responsibility."
Ferrari said he was a little anxious at first, but a lifetime of playing, watching and coaching basketball was an asset in his new position.
"Growing up, Frank and I were always at my dad's practices. He knows a lot about basketball," Ferrari said. "I learned so much from him. He gave the base knowledge I have of the game."
Now entering his third season on the USF coaching staff, Ferrari believes he is on a path that will lead him to a college coaching job, but he is still enjoying the journey.
"For me, when we're playing a big game against Gonzaga or BYU, you sit on the bench, you say, 'This is it. This is amazing.' To be actually involved in the game is a dream come true," Ferrari said. "I really don't have a Plan B, to be honest. Coaching is everything to me. I'm going to do everything I can to stay in this field."