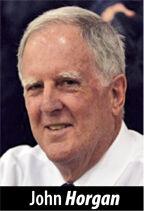 It's crunch time. Let the arguments commence. We're referring, of course, to PG&E's plan to begin moving customers to a new electricity rate system. The shift begins today, whether we like it or not. 
The aim is to reduce electrical use between the hours of 4 p.m. and 9 p.m. when demand is greatest. Why? Because the giant utility's increasing reliance on so-called green energy is an iffy proposition.
Wind and solar sources are unreliable in the evening. So PG&E customers will wind up being penalized if they don't cut back during those hours. Thanks a lot. This circumstance (which is one more reason to employ a gas stove or gas furnace despite misguided green efforts to abolish the appliances) can lead to disputes within households.
I speak from some experience in this delicate matter. There has been an ongoing debate about how and when to turn on the lights and appliances in our modest manse. On occasion, the decibel level of the discussion can rise. Neighbors tend to shun our property between 4 and 9. It has become off limits for some.
And there's more. Let's talk drought. Once again, the issue is how much and how often to use a precious resource, water. The front lawn is slowing becoming a tacky wasteland. Short showers are the norm. Wasting water, or the perception of same, is verboten.
Arguments about agua are increasing right along with the ongoing PG&E war. This has become a lose-lose proposition twice over. Marriage counseling may be in the works at the rate these dilemmas are ongoing. 
There is great trepidation when power or water bills are found in the mailbox. No one wants to open the envelopes. They contain what amounts to a monthly verdict on our behavior. They are like medical test results. We really don't want to see them but most assuredly need to check them out to proceed with daily living.
It's going to be a long winter.
AN INDIFFERENCE ADJUSTMENT: Those dreaded PG&E bills can be perplexing if you happen to venture deep into the morass of the fine print.
Some of the charges are downright mysterious. One stands out as a special example of creative wording. It is called an "indifference adjustment." Say what? What does that mean?
Is that a charge being levied because someone at the utility believes that I don't care? I do care — and quite a lot as power bills continue to escalate year after year, courtesy of legal settlements, a fixation on green energy and other issues. 
So what exactly is an "indifference adjustment?" It turns out that it's a fee designed to have customers who utilize a non-PG&E supplier (a sort of energy middleman like San Mateo County) to pay what is said to be their fair share of the utility's power generation costs required to serve them.
At least that's the online explanation provided for us. Ah, yes, we live and learn. And pay.
DICK VERMEIL IS GETTING CLOSE: Dick Vermeil walked onto the Hillsdale High School campus 60 years ago. It was the late summer of 1961. He was a teacher and the new head football coach at the relatively new San Mateo school.
He made his mark immediately. His very first team went unbeaten, 9-0. His ascent to bigger and better things was swift. He coached at the College of San Mateo, Napa College, Stanford University and UCLA. He had also spent time as an assistant coach with the NFL's Los Angeles Rams.
Then the Rams called again. He was a head coach at football's highest level for a total of 15 years, with three different teams in two separate professional stints. His 1999 Rams won the Super Bowl.
Now, Vermeil is on the cusp of entrance into the Pro Football Hall of Fame. He is a finalist for that honor. If he is elected next year, he will become the third NFL head coach with a CSM background, following John Madden and the late Bill Walsh (both Super Bowl champs), to be inducted into that list of gridiron luminaries.
Vermeil will need at least 80% of the vote from the selection committee to achieve the honor.