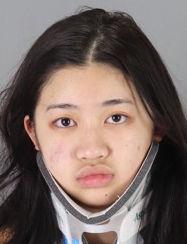 An 18-year-old woman faces up to eight years in state prison for a DUI crash in Redwood City in February that killed her passenger, according to the San Mateo County District Attorney's Office. 
Natasha Leodjaja, of San Jose, pleaded no contest to two felonies — vehicular manslaughter and felony drunk driving causing injury — Monday and will be sentenced June 16, said District Attorney Steve Wagstaffe. 
Prosecutors said that at about 3:15 a.m. Feb. 23, Leodjaja was behind the wheel of a 2018 Audi sedan heading south on Highway 101 near Whipple Avenue in Redwood City when she veered off the road. The crash killed 18-year-old passenger Silvia Chalista. 
The car went down an embankment, flew into the air and crashed into a light pole and two trees before coming to a stop on its roof, according to prosecutors. Chalista died at the scene.
Leodjaja, who was injured, was taken to a hospital where her blood was taken to test for alcohol. She was also given an alcohol breath test that allegedly revealed she had a blood-alcohol level of between .06 and .07, according to prosecutors. 
It is illegal to drive in California with a blood-alcohol level that is .08 or above, but prosecutors said Leodjaja had "objective symptoms of intoxication and indicated she had consumed 'lots of shots' at a party in San Francisco." 
Leodjaja is currently out of custody on a $100,000 bail bond posted on Feb. 26, but was forced to surrender her passport, abstain from drugs and alcohol and wear an alcohol detection device.