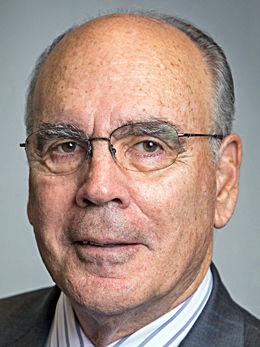 How to manage coastside traffic and housing as well as the county budget surfaced as the most pressing issues facing the next District 3 supervisor as candidates prepare for the June 5 primary election.
Pacifica Planning Commissioner Dan Stegink's bid for the seat presented a challenger to San Mateo County Supervisor Don Horsley to represent a district extending from Pacifica to Pescadero and encompassing the county's coastline and acres of open space.
Stegink is calling for a fresh approach on several fronts, including adjustments to traffic flow on State Route 92, expedited planning processes and smaller units in new housing developments as well as reduced benefits for new county employees to mitigate the effects of regional housing and traffic issues and better manage the county's finances.
For Horsley, whose second term as supervisor ends in December, maintaining a focus on county efforts to encourage housing and protect tenants while maintaining the parks and open spaces along the coast are priorities as he looks to extend his tenure into a third term.
"I want [San Mateo County] to be a county where we can maintain a diversity," said Horsley. "I think that's part of the fabric of life for us."
Both candidates pegged the need for more housing as an issue underpinning many of the coast and county's challenges. Noting the prevalence of mobile homes and homeless communities in coastside cities, Stegink favored efforts that gave cities the option to allow smaller units in new projects and expediting remodels over the county's Home For All effort, which gathers housing resources and information and has implemented ordinances aimed at protecting tenants and maintaining existing housing.
"You could almost double density of almost every housing project," he said.
Though he declined to comment further on existing county housing programs, Stegink said he felt what's been done so far has not kept pace with the county's housing demand, adding that locating new housing developments near existing transportation infrastructure, such as Highway 101 and State Route 92, would also afford developments greater flexibility to increase density.
For Horsley, the county's support of new affordable housing developments and the preservation of existing affordable units are among Home For All's most promising programs, noting the county has pooled federal and state funding sources to dedicate more than $105 million toward housing and homeless services in the last four years. By dedicating funds to projects organizations like HIP Housing, MidPen Housing and the St. Francis Center are spearheading to add or preserve affordable housing units, Horsley said neighborhoods have been stabilized with the 450 new units that have been built and another 1,000 units in the pipeline.
Horsley noted Measure K, a half-cent sales tax extension county voters approved in 2016, has supplemented support for housing projects and has also been directed toward other needs in the county, such as early childhood education, seismic retrofitting project at the Seton Medical Center and paratransit system.
"We have a lot of demand for our funding," he said, adding some of the needs were related. "You can't talk about traffic without housing at the same time."
Stegink looked to improvements to traffic flow on State Route 92 to improve the quality of life for coastside residents, noting restrictions on commercial vehicles during peak commute hours or smart signaling to facilitate passage of vehicles headed to and from the Ox Mountain Sanitary Landfill could ease constraints that currently cause highway backups.
Stegink also pegged stewardship of the county budget as a priority, noting many residents may not be aware they are funding staggering pension liabilities from weighty compensation packages for county employees. He hoped hiring new employees with smaller benefit packages and outsourcing services where possible could help cut down on the county payroll, adding officials should be more specific about what tax measures like Measure K are funding when they are put on the ballot.
"You've got a lot of people who believe they're getting taxed to death," he said. "You've got a lot of people who don't have the bandwidth to pay for extra things."
By changing the age of retirement and the contributions employees are expected to make toward their pensions, Horsley said the county's pension liabilities have decreased substantially since he was first elected, adding a new hiring system phasing in benefits for new employees has saved the county costs in its retirement system. Having had to make budget cuts, including the closure of the Burlingame Health Center some seven years ago, Horsley said the county is in a good position to prepare for an impending economic downturn with some $300 million in its reserves.
Both Horsley and Stegink agreed preserving the county parks and natural resources on the coast would remain a priority if they are elected. Stegink said open spaces are one benefit that allow many residents feel they are getting their money's worth, and supported efforts to preserve open spaces so all San Mateo County residents can continue to enjoy them. Horsley pointed to the opening of the Devil's Slide Trail just south of Pacifica in 2014 and a new road, restrooms and ranger station to go in at Tunitas Creek Beach to make even more open spaces available to residents.