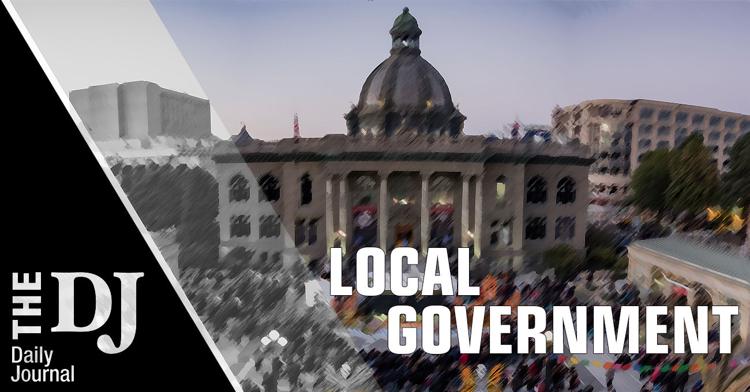 In an effort to ease concerns about the future of voter-approved building height limits set to expire soon while San Mateo's 2040 General Plan update process takes shape, city officials are slated to review on Monday a resolution that the council will keep in place the provisions of Measure P until the city's long-range planning effort is complete.
First approved by voters in 1991 as Measure H, 2004's Measure P established 55-foot height limits in most parts of the city, restricted how densely housing and commercial developers can build and also required residential developments to provide at least 10 percent of below-market-rate units on site.
Measure P will sunset in 2020, and its future has been debated in the last year as the city embarked on an effort to update its General Plan, a process initiated in 2017 and expected to include discussions on housing, land use policy, circulation, open space, noise, safety and conservation. Though the General Plan update process was initially estimated to be completed in 2020 and coincide with the expiration of Measure P, concerns about the effort's aggressive timeline and a process that felt rushed drove officials to extend the timeline into 2023, according to a staff report.
Because the building restrictions set by Measure P were adopted as part of San Mateo's 2030 General Plan, they do not automatically expire in 2020 and city officials are required to approve a General Plan amendment to change them. The resolution up for review Monday is aimed at affirming the council's commitment to moving forward with a robust General Plan update process and using its outcomes to make changes to the city's planning document, according to the report.
Having led an effort last year to extend Measure P 10 years past its sunset date in 2020, resident Maxine Terner said in an email she felt the proposed resolution does not serve residents because it has no legal binding effect and could be changed by the council at any time.
Spearheaded by the citizens group San Mateans for Responsive Government in early 2018, the effort to put a Measure P extension on the November 2018 ballot gained favor with more than 7,000 signatories but was later found by the city attorney to have violated a section of the state Elections Code requiring voter initiatives to state the substance of the law that would be enacted if the measure is successful.
After months of discussion, the City Council, which would have been required to place the initiative on the 2018 ballot, opted in August of 2018 to focus its efforts on exploring a compromise ballot initiative on the November 2020 ballot.
Instead of adopting the proposed resolution, Terner felt the council should put a measure to extend Measure P on the November 2020 ballot, noting the more than 7,000 people who signed the group's petition last year understand councilmembers come and go.
"The current council may vote to go forward with this resolution but whoever happens to be on the council when Measure P sunsets can easily make changes with just three votes," she said. "In fact, the current council can change their minds at their very next meeting."
Evelyn Stivers, executive director of Housing Leadership Council of San Mateo County, also took issue with the resolution, alleging it came as a shock and landed as tone deaf given the pressure San Mateo residents are feeling from the housing shortage. For the General Plan update to be successful, Stivers said she felt community members should get on the same page about what its goals are instead of setting limits on how the city should grow in the future.
Stivers said she favored putting Measure P on the 2020 ballot and in the meantime focusing on identifying the city's challenges and finding ways to address them through the General Plan update process.
"We need to add additional homes. We need to come up with better alternatives for driving and we need to come up with better infrastructure to support the new housing," she said. "That's what the plan needs to be focused on."
The council meets 7 p.m. July 15 at City Hall, 330 W. 20th Ave.