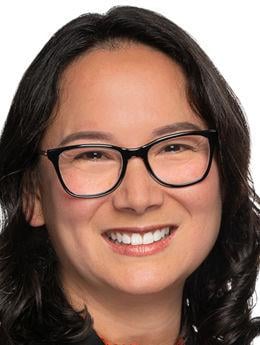 San Mateo police are investigating the possibility a thrown rock targeting Councilwoman Amourence Lee's house is a hate crime.
On Tuesday shortly before noon, Lee said someone threw a roughly 3-inch rock into a window of her home in the North Central neighborhood while she was inside with her husband and two children.
"This rock could've come and hit my family, my daughter. This is violence in our community," Lee said in a video she uploaded to Facebook shortly after the incident.
No one was in the street-facing room of her house when the rock smashed through the window and no one was hurt. Lee said it took her a few minutes to figure out what had happened after hearing a loud noise and discovering broken glass on the floor.
"It was completely unexpected. We live in a safe community," she said.
The rock struck the window just above where an American flag with the words "dignity, liberty and justice for all" has hung in the window for the past 10 years, Lee said. There was no note attached to the rock.
"It was just a cowardly rock thrown with no credit," Lee said.
Lee reported the incident as a hate crime and said in the Facebook video it was "probably retribution for standing in solidarity with our LGTBQ community last night." San Mateo raised the rainbow pride flag at City Hall Tuesday night in support of LGBTQ pride month for the first time in the city's history.
Lee also wondered if the alleged attack was in response to her being the first Asian American woman to serve on the San Mateo City Council or if it's connected to racist graffiti targeting Chinese people discovered last week at the Crystal Springs Shopping Center. Lee was appointed late last year to fill the seat of the departing Maureen Freschet and is running for re-election this year.
Lee also pointed to recent protests while theorizing about a motive for the alleged attack, and noted she's a vocal Black Lives Matter supporter and has worked with Coalition Z, a local youth-led nonprofit that has organized protests in response to the deaths of Ahmaud Arbery, Breonna Taylor, George Floyd and others, according to its website.
"It's hard to know if this is racially motivated, but the timing of it seems to indicate hate crime," she said. "It was intentional, it was violent and it was meant to cause fear."
Police spokesman Officer Michael Haobsh said the case is technically being investigated as felony vandalism with a potential hate crime enhancement. A team of investigators are analyzing surveillance footage, which appears to have captured one suspect, though no information about the suspect is available, Haobsh said.
"We're investigating if it meets the elements of a hate crime," he said.
Lee said the incident has caused her to feel disturbed but also resolute.
"I'm not going to stop being who I am. I'm not going to stop advancing the work of justice," she said, adding "I don't think this defines who we are as a community."