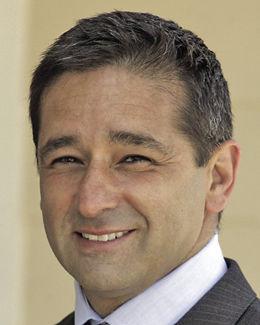 Foster City Councilman Herb Perez has been recalled by an overwhelming majority of voters, making him the first councilmember to be recalled in the city since 1977.
As of 11:30 p.m. Tuesday, 77.5% or 3,759 voters chose to oust Perez, who was in the final months of his second term and ninth year on the council. Just 22.5% or 1,094 voters were against the recall.
Retired police chief Jon Froomin won the election for Perez's seat, having defeated Realtor Patrick Sullivan with 61.3% or 2,748 votes as of 11 p.m. Froomin will serve on the council through November when the term for his seat expires.
Perez's opponents feel he was no longer fit to serve because he's rude — he's called residents "malfeasant miscreants" and "morons." They said he also doesn't listen to residents and is self-serving. They blame him for creating a toxic environment at City Hall that has prevented city business from being accomplished.
"We can't have Herb in office anymore because he's incredibly rude and toxic toward colleagues, staff and residents. He doesn't listen and in fact tries to stop any democratic discourse," said Jeff Regan, whose group FC Watchdog collected 4,389 signatures last year to place a recall measure on the ballot, well above the required 3,314 signatures. "With him gone, we finally won't have the dysfunction we've been experiencing."
Perez was accepting of the voters' decision Tuesday night and said it didn't bother him.
"A handful of people don't like me and I'm OK with that. I'm not trying to be popular," Perez said. "The City Council was an awesome opportunity to serve the public and it's time for others to serve and I wish them the best. I have no hard feelings."
Perez said he's proud of his work on the council, noting the city is in better financial shape now than when he began the job, and looks forward to serving the public in other capacities in the future, but didn't elaborate on what they might be.
"I did an awesome job. I'm proud of the work I did as a councilmember. I can leave knowing there's $98 million in the bank and there was just $11 million when I started," he said. "I look forward to continue serving the public."
Perez and his supporters have argued that simply being mean is no grounds for a recall, though Regan said Perez's critics are motivated by much more than hurt feelings.
"Meanness wasn't the reason for the recall," Regan said. "It was that he was using the bullying and the intimidation as a tactic to forward his personal agenda."
According to his critics, Perez's agenda includes ushering in unwanted development in the city, using city resources to promote his own business and pushing to build an extravagant rec center, among other misdeeds. They also blame him for being absent at City Council meetings and regional board meetings — claims Perez has said are false.
"They've been proven to be liars," Perez said. "Sometimes the liars prevail — Trump ended up in the White House. The public may learn a lesson."
The recall election could cost taxpayers $70,000 or as much as $95,000.
Froomin was pleased with the promising returns Tuesday night and said he looks forward to restoring civility on the council.
"I'm pleased with the vote, a lot of work went into the campaign. It feels really good," he said. "I look forward to working in a respectful professional manner together with my colleagues. I'm hoping this election will bring people together and put to rest a lot of the divisiveness going on in the community."
Froomin has been a Foster City resident since 1972. He was educated in the city's public schools and at the age of 21 joined the city's police department for 20 years before leaving at the rank of captain. He later moved to Southern California, where he worked his way up to police chief, and upon retiring moved back to Foster City, where he raised his three children.