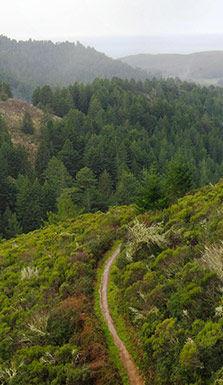 The Half Moon Bay City Council is interested in swapping land with multiple agencies to create two walking trails near the historic Johnston House, one of which would extend from the ocean to the Bay.
The council on Tuesday, Oct. 1, signed of on two non-binding letters of intent for deals with the Midpeninsula Regional Open Space District and Peninsula Open Space Trust, or POST. 
"It's one of those triple wins, it really does serve everyone," said City Manager Bob Nisbet. 
For the first deal, the city would receive a 30-foot wide easement along the southerly side of Higgins Road between Main Street and the Johnston House property parking lot, according to a staff report. The easement would be for a pedestrian and biking trail connecting Main Street to the Johnston House property.   
Nisbet said the road is currently used regularly by cyclists and dog walkers so the plan is to build a safer path out of decomposed granite next to it. 
In exchange, the city would grant an easement of equal size to POST and the open space district along the westerly border of the Johnston House. POST owns 224 acres west of the Johnston House that's deed restricted in perpetuity for agricultural uses. The easement would allow farmers to access that land and it would also serve as emergency and maintenance access for the open space district once the proposed multi-use nature trail is constructed.
That trail would be constructed on a 440-acre district parcel east of the Johnston House and would connect the Bay to the coast. To build it, the council is entering into an agreement with 10 entities, including San Mateo County, Redwood City and the San Francisco Public Utilities Commission. Each would construct its own segment of the trail, which has two potential routes. One would go through the Johnston House property and along the Higgins Road easement. 
But that trail will not become a reality any time soon.
"This is a long-term vision," Nisbet said, adding that the project could span 10 years. 
Councilwoman Debbie Ruddock celebrated the vision, but said it could take as many as 30 years to come to fruition. 
"I think it's a great long-term vision, I think it's good for the coastside, recreation, outdoor health, cycling, walking and hiking — that's the kind of thing that could be a good piece of our economy," she said.
The plan is once the trail is complete, then it would share the same parking lot as Johnston House.