Belmont Hardware, the city's oldest retailer, turns 80 this month. The store has occupied the same building at 940 El Camino Real since it opened in 1938, but the company and its inventory has seen many changes over the years.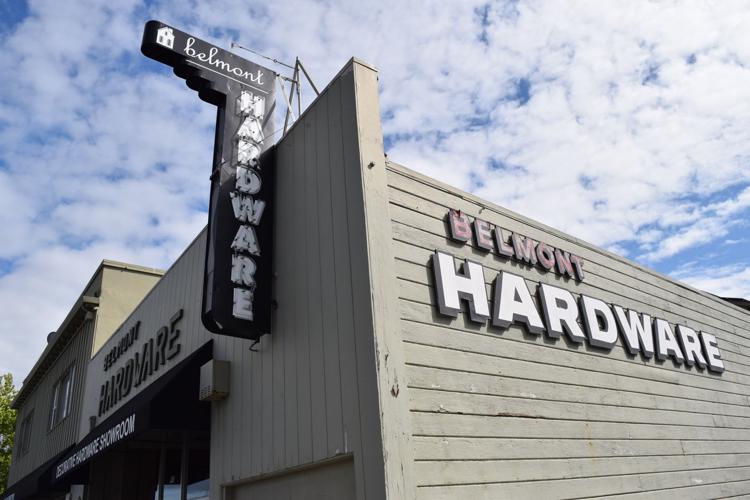 Current owners Brad and Yamileth Clore bought Belmont Hardware from its original owner in 1991 and, since then, it has gradually transitioned from a nuts-and-bolts neighborhood standby to the showroom for high-end decorative hardware and plumbing fixtures that it is today.
Countless knobs, pulls, sinks and bathtubs along with the latest hardware trends and innovations are on display at the company's flagship Belmont location and five other locations throughout the Bay Area mostly, including Walnut Creek, San Francisco, Novato, San Jose and Fresno.
The company and its products will be featured in multiple episodes of the upcoming sixth season of HGTV's "Brother vs. Brother," a home improvement program in which brothers Jonathan and Drew Scott compete to buy, transform and sell two homes in just six weeks.
Belmont Hardware provided all of the decorative hardware and plumbing — about $50,000 worth — for the two featured homes, which are located in Pinole and El Sobrante. The new season premieres 9 p.m. May 23.
Rich Campbell, operations manager for Belmont Hardware, was a fan of the show before its producers called him in January.
"They said Belmont Hardware was at the top of their list of suppliers when they checked out the Bay Area," Campbell said. He and Clore appear in several episodes of the upcoming season.
Campbell said he was amazed that such extensive remodels were completed in such a short amount of time, adding that it was a challenge to pull together the wide variety of products in a timely manner.
"The entire interiors were redone and once we saw them from beginning to end it was like 'holy cow,'" he said.
Clore, who has a background in computer science and finance, grew up in Montana, where his father owned a hardware store. He was looking for a new opportunity in 1991 when he saw Belmont Hardware for sale in The Wall Street Journal and purchased it.
Before Campbell joined the company nearly 10 years ago, he owned Cornelia's Fine Kitchen and Bath in San Jose, which later became Belmont Hardware's sixth location.
"San Jose was the only area in the region Clore wasn't in at the time," Campbell said. "Plumbing is my expertise for 30 years and he has hardware expertise so it was a pretty good marriage."
Since Campbell joined the company, it has added plumbing to each of its showrooms, except the one in San Francisco.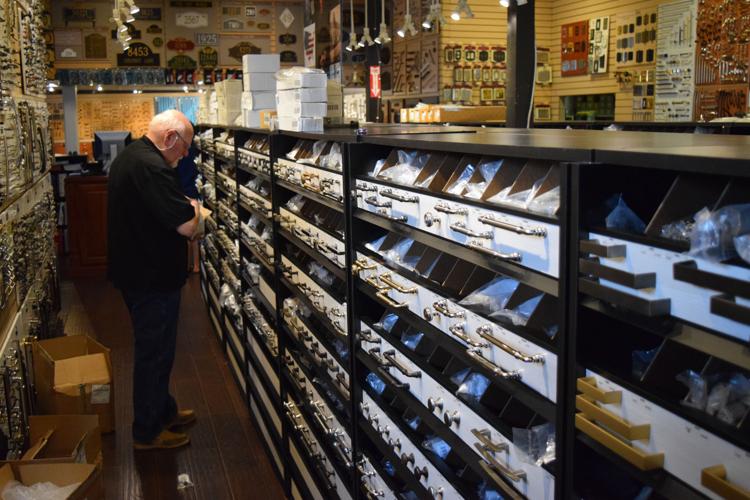 "The unique thing about us is we're experts in decorative hardware and plumbing," he said. "Even throughout the country there aren't many companies strong in both categories."
With so many years in the business, Campbell sees trends come and go.
"It's hard to understand 30 years ago people wanted polished brass and they wanted it shiny and hated tarnish," he said, referring to a type of finish. "But now people want to buy it unlacquered and tarnished and let it get more tarnished. It's mind-boggling."
Many of these trends command a high price.
Bathrooms are becoming more of a spa experience, he said, and the company sells mirrors with TVs in them, which are invisible when turned off. Those are priced at $3,500.
Belmont Hardware offers novelty products not found anywhere else in the Bay Area, including a carbon fiber hammock bathtub, which is 9 feet long, 75 pounds and hangs from two walls and is also bolted to the ground. It costs $50,000.
"We've sold a few of those," Campbell said. "It's something different. It's an art piece, a statement. But we don't just throw out the latest trends, it has to have a proven track record to throw it out there."
The company's largest home project for a Los Altos residence totaled $1.5 million in door hardware.
Technology has also had a big impact on the industry.
"The electronic age merging with door hardware is a big trend right now," Campbell said. Belmont Hardware sells push-code door locks and other models that connect to smartphones.
Campbell said the company competes mostly with online sellers and not so much with big-box stores like The Home Depot. But the internet also brings good news for business.
"The age of Pinterest has done a lot to expose decorative hardware and decorative plumbing to the public," he said. "They get inspiration off the internet and come to us."
Belmont Hardware is still growing after 80 years and Campbell said confidently that that will only continue.